It's a great time to be outdoors in north Texas and historic downtown Denton offers the perfect activities for taking it all in this spring. The downtown merchants of the Denton Main Street Association (DMSA) invite you to enjoy shopping, dining, and a fashion show during the Spring Open House weekend May 5th and 6th. Many shops will be open extended hours and will be offering specials to their clients, such as refreshments, discounts, and drawings for prizes.
DMSA will host a fashion show at 11:30 a.m. on Saturday, May 5th, on the Denton County Courthouse-on-the-Square lawn, 110 W. Hickory St. This is an eye-catching, entertaining way to give shoppers an impression of what downtown businesses have to offer. Apparel, shoes, jewelry and accessories will be modeled in the show from various shops participating in the Open House weekend. Come for a "taste of downtown" with samplings from area restaurants while you watch the fashion show.
New this year, look for "check-in" promotions throughout Spring Open House weekend. Businesses will enroll people for a drawing if they check-in on Foursquare, Facebook, or any of the other social sites. The more places a shopper checks-in, the more chances he or she has to win a prize.
Want another way to enjoy downtown Denton? Come to the Square for the Denton Main Street Association's Twilight Tunes concert series. The concerts start May 3rd, with Hollertime returning to Denton after a memorable performance at 35 Denton back in March. Twilight Tunes concerts are free every Thursday night in May and June from 6:30 to 8 p.m. All concerts are on the Denton County Courthouse-on-the-Square lawn, 110 W. Hickory Street.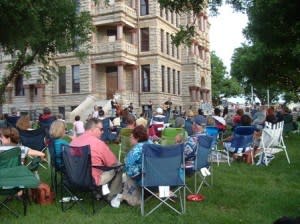 Enjoy the beautiful weather with friends and family and a meal-to-go from one of the many downtown eateries. Spread your blanket or set up your chairs, and enjoy an evening of great live music as the sun sets over downtown Denton. The 2012 Twilight Tunes series offers an eclectic assortment of music for all listeners. It is the perfect way to kick off the weekend early and listen to some of the best local bands in the Denton area.
For more information and a complete schedule of Open House weekend activities and the Twilight Tunes concerts, please visit the website at www.dentonmainstreet.org .