Sharing roads with pedicabs and cycling residents has given Denton a Bike Friendly status.  But the upcoming annual Pioneer Sprint Triathlon will flare Denton's competitive edge not just on bicycles, but on foot and in water.
This USA Triathlon (USAT) sanctioned event features a 300 meter swim, a 26 kilometer (16. miles) bike ride, and a 3.1 mile run.
The race will be under the supervision of race director Dan Jones of Dallas Athletes Racing.  Multisport enthusiasts in the North Texas area will recognize Dallas Athletes as the company responsible for highly-regarded local events such as the St. Patrick's Day, Caveman, TexasMan, Disco, and Monster triathlons.
More than 340 local, regional, and national racers competed in the 2010 Pioneer Power Sprint and Jones expects an even greater turnout for the 2011 race. "This is one of the best sprint races we put on" said Jones. "The course is challenging but fun, the location is phenomenal, and the post-race party is excellent. I'm really looking forward to this event."
The Pioneer Power Sprint race course is gaining popularity in the triathlon community. The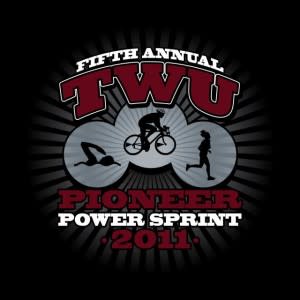 300 meter swim takes place in the 50-meter TWU Fitness and Recreation outdoor pool. The bike ride is an out-and-back route primarily on scenic Highway 428. The run is one-loop path that begins on the TWU Pioneer Golf Course before finishing at the Hubbard Hall oval in the center of the TWU campus.
The post-race festivities will include live music, free food and drink, awards, and vendor booths.    Additional information about the race is available at www.dallasathletesracing.com/races/twu-sprint-tri.
The 2011 Pioneer Power Sprint Triathlon is hosted by and directly benefits TWU's soccer team.  Fleur Benatar, the Pioneers' head soccer coach and veteran of numerous triathlons is excited about the upcoming competition.  "I'm confident that this year's Pioneer Power Sprint will be our best yet!"