On the outer wall of what was Burguesa and will soon be Hoochies Oyster House is a giant chalkboard. A bucket of rainbow-colored sticks of chalk sits beneath it, an open invitation.  Passersby stop to wonder.  Many eagerly reach for the chalk and add their own message to the board.  Others just read and smile in that "only in Denton" way.
The chalkboard is not there by accident.  Nor is it some aimless anomaly.  The partners of the "Dig Little d" campaign devised this point of expression and placed it purposely at the corner of Hickory and Industrial Streets, directly across the street from Dan's Silverleaf, in the heart of the Hickory Street construction project.  The idea is that amid dust, rugged roads, workers and detours, we Dentonites will hold to the vision of a beautifully landscaped Hickory Street with wide, smooth sidewalks, benches and Denton-centric bike racks.  Within a year, the pain of development and upgrade will be but a memory, and we all will bask in the reality of that vision.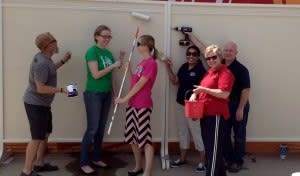 "Dig Little d" volunteers from the CVB, Keep Denton Beautiful, Denton Main Street Association, Downtown Development, and business owners from Beth Marie's Ice Cream, Mellow Mushroom, and Dan's Silverleaf donned work scrubs and gathered supplies to build the chalkboard community chat space.  A special shout-out goes to Sherwin Williams for donating paint supplies.  I never knew there was special paint for making a chalkboard. Surprise on-the-job training like that gleaned on this project remind me again why I love my work in Denton.
The chalkboard asks, "You love Denton?  Why?" The responses are as original as Denton's culture.  Bold man-script notes, "Friends."  Fancy girl-cursive says, "creative culture" and "nice people."  Someone drew a face.  Even kids have added their scribbles to the board.  Hashtags invite random chalkboard scribes to snap a selfie with their message and share it through Denton's social media channels.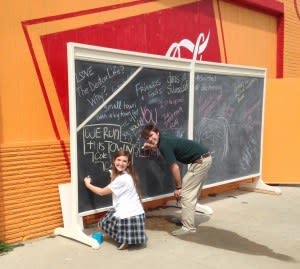 The chalkboard is a reminder that we are the collective driver behind Denton's fantastic downtown entertainment district.  Many business owners assumed risk one after the other to invest in what was once a near-deserted downtown.  They turned the area into a vibrant attraction that visitors and residents alike enjoy every day, reciprocally making their businesses thrive.  Then as these businesses flourish, so do our entertainment options and so does our city.  It's the circle of life, and it must continue while we "dig Little d," so it's all still intact and even better on the other side of improvement.
"Every Story" is a song by one of my favorite Denton artists Zach Balch.  Check it out on DentonRadio.com.  The chorus says, "Every story writes itself.  So put your book back on the shelf and write one with me."  I love that.  Listening to Zach sing these words during the DentonRadio.com Song Swap at LSA this past week, I thought suddenly of the chalkboard. The community is scribing together a concerted definition of this place we love.  We put our own book on the shelf to write together within this unfolding Denton story.  The chalkboard took on deeper meaning as an interactive metaphor for Original Independent Denton where we embrace and respect pursuit of our individual passions thus fueling this original, organic, creative culture that is Denton's story.
I'm certain Zach was thinking along different lines when he composed his song.  "Every Story" is an upbeat love song between a him and a her.  But I'm also confident he would approve of this unique interpretation of his song. He's one among our tribe of Denton-lovers and, as musicians do, will celebrate the fact that his craft inspired and applied in ways far beyond his own imaginings.
I remind readers often that the world is watching us.  Once again, we are in the limelight.  Official Best Of recently chalked Denton up as the "Best College Town in Texas."  A new two-minute video available on our DiscoverDenton Youtube channel shows just why this accolade is quite appropriately ours.  Like the many other recognitions Denton has garnered in the last few months, our dynamic downtown is a key element in setting our city apart as especially unique.
"Dig Little d's" mission is making sure we stay the course, remain strong through the process, and emerge yet brighter on the world stage than even where we are today.  While building on the chalkboard, one of our crew commented on how cool it was rolling up our sleeves and working together to make something happen.  And it's a cool thing everyone can be part of now.  It's how we roll in Denton.  Chalk it up!