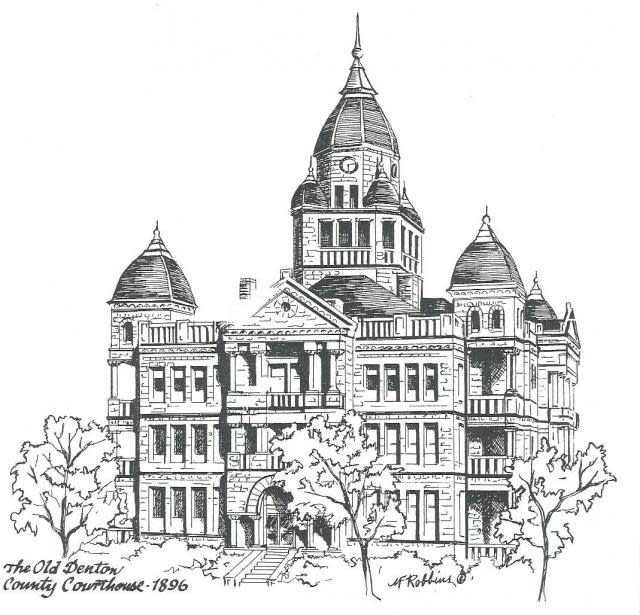 Denton County Museum is pleased to welcome retired high school principal, noted author and Texan by choice, Chuck Parsons on Thursday, June 14, from 12:15 until 1:00 in the afternoon at the Courthouse-on-the-Square Commissioners Courtroom.
Mr. Parsons will discuss his latest book, Captain John R. Hughes: Lone Star Ranger, the biography of a man who served as a Texas Ranger from 1887 until early 1915.  Hughes served as a captain and ranger longer than any other man and received more awards and honors than any other Texas Ranger, including the Certificate of Valor for bravery in 1940. Neighbors and Texas Rangers admired him for tracking down horse thieves and returning the horses to their rightful owners.
Mr. Parson's has published eleven books  including:  The Sutton-Taylor Feud: The Deadliest Blood Feud in Texas; Legendary Watering Holes: The Saloons That Made Texas Famous; Captain L.H. McNelly Texas Ranger: The Life and Times of a Fighting Man.
In addition, Parsons is Book Review editor of the Journal of South Texas (Texas A&M University - Kingsville); former columnist of True West magazine (conducted "The Answer Man" column from January 1983 to January 2000); has written numerous articles and book reviews in such publications as True West, Real West, the Brand Book and Tally Sheet of the English Westerners Society, the Journal of the East Texas Historical Association, the Journal of Big Bend Studies, the Journal of the Wild West History Association. From 2008-2011 he edited the Saddlebag (Newsletter) of the Wild West History Association.
Chuck Parsons is a Texan by choice, having moved here a number of years ago in order to concentrate full time on researching and writing about Texas outlaws, lawmen, feudists and Texas Rangers of the Old West. Parsons is a native of Iowa, and grew up in Iowa and Minnesota in a farming family. After graduating from the University of Minnesota he taught school in Racine, Wisconsin prior to earning his Master's degree in the field of Educational Administration and Supervision from the University of Wisconsin - Madison. He then served as a high school principal in Minnesota schools for nine years and then in a Wisconsin school for nine years, a total of eighteen years in secondary administration.  Now retired, he lives in Luling, Texas with his wife Pat. Their time and energy is devoted to research, writing, speaking engagements, travel, and enjoying their children and grandchildren.
All Courthouse Museum exhibits and lectures are free and open to the public.  The courthouse has handicapped parking and accessibility through the north entrance.  There is an elevator available for public use. The Courthouse-on-the-Square Museum is located in the historic Denton County Courthouse at 110 W. Hickory in Denton, TX.  For additional information contact Denton County Museums at 940-349-2850.