Poly Maynard received her Bachelor's and Master's degrees in Classical Guitar Performance from the University of North Texas.  Her love for music and children resonate through the kiddie tunes performed by her band,Miss Poly & Her Big Band.  But that's not Polly' as only passion.  It seems that theatre receives just as much love as her music.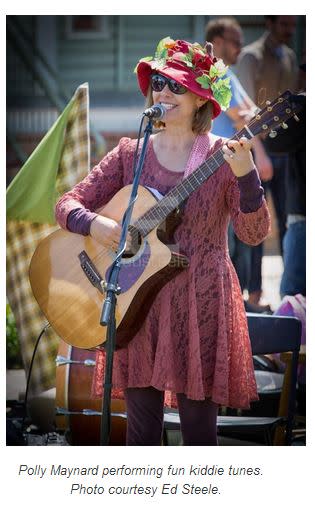 What first inspired you to become active in the theatre?  
I auditioned for a show in High School, and was hooked.   That teacher was the "one that made a difference" in my life.  Theatre teaches you so much: self-discipline, time-management, how to take care of yourself, how to behave in a professional manner, empathy, how to take criticism, etc.  And learning lines? Whew!! It keeps your brain active.
Is this a hobby or something you are pursuing full time? Why or why not?
I do not pursue theater professionally. I have done paid shows/industrials in the past, but generally found it unfulfilling.  Plus, the competition is too great.  Music is my first love, but as it is my vocation, that takes a good deal of the fun out of it.  I don't want that pressure with theatre.
How long have you been with Community Theatre?/How did you get involved? 
I auditioned for a show c. 1993 and got cast!  They've been stuck with me ever since.
Were you nervous at auditions for Sly Fox? Why/why not
I used to be terrified of auditions, but now I just try to have fun.  My thought process is:  "This may be the only chance I will ever have to say these lines on stage, so I'm just going to go for it, and have a good time"  It can be a very nerve-racking experience.  You want to be prepared, yet if you over-prepare, then it becomes difficult to be flexible.  For example: if you spend too much time studying the script, you may develop such firm opinions about the characters that when you read with another actor their approach may differ considerably from yours, and it can throw you.  Or the director may ask you to do something that conflicts with your idea of the character or scene, and you may have difficulty doing it.  And if you can't demonstrate your ability to be directed, it's unlikely you'll get cast.  Balance is key.  First impressions are rarely correct – in life, or in theatre.  So – I read a script a few times,   mull over the relationships, situations, goals of each of the characters, style of the show, etc.  Then I just try to do my best.  Sometimes I get cast, sometimes not.  It IS difficult to handle the rejection when I don't get a role, especially one I've really fallen for.
If you could describe Sly Fox in one word it would be:  Manipulation.
What do you like about your character?/What is your character like? 
My character is a scheming, self-centered, morally vacant floozy.  Sadly, there are probably lots of people who would say it was type-cast!!  But Miss Fancy has unlimited confidence in herself, something I do not possess at all and am envious of. She doesn't care about others. I really do.  She doesn't care what others think of her.  I very much do. She is all business, all the time.  I'm too unfocused to be that way!
Have you guys had fun putting this production together? Any good stories?  
Oh my gosh – YES!!!   I love, love, love, this cast and crew. But if you want the scoop, you'll have to buy me a "Sly Fox".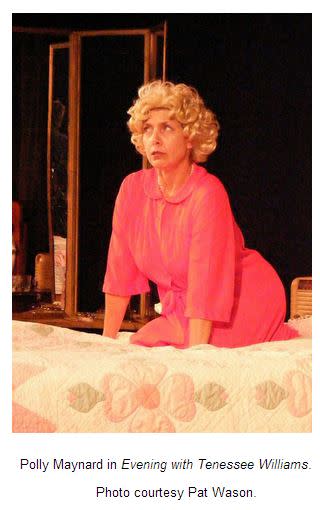 What would you tell someone thinking about attending one of the Sly Fox productions? 
Go to Dan's Silverleaf, Oak Street Drafthouse, Hickory Street Lounge and the Greenhouse.  Order a "Sly Fox" (drink) at each place, and you will receive a poker chip.  (Each bar has a different color.)  Take your chips to the theatre, purchase 2 tickets for the price of 1 AND use the chips to vote for the bar that you think invented the best "Sly Fox" drink.  Then get yourself to the theatre and be prepared to laugh.  After the show, use your ticket stub to get a discount at any of the above mentioned establishments.
What brought you to Denton?
UNT Music School, where I earned a Bachelor's and Master's degree in Classical Guitar Performance.
Where are your favorite places to do some #Dentoning?  
Dan's Silverleaf, Oak Street Drafthouse, Hickory Street Lounge, and the Greenhouse.
Favorite thing that makes Denton quirky? 
The entire artistic community here makes it such a vibrant, inspirational, exciting,  colorful place to be.  The music scene is insanely good.  People here have no idea how spoiled they are.
If the Mayan Apocalypse happened tomorrow and you got to eat at one last restaurant in Denton… where would you go?   Mr. Chopstix
Would you rather get free coffee drinks at all your favorite spots in Denton for a lifetime or have free access to any concert in Denton forever?   Free access to music concerts.