John Rodgers is no stranger to Denton Community Theatre.  Among many performances with DCT, he was cast in the lead role as Joe Keller in the 2012 production of All My Sons.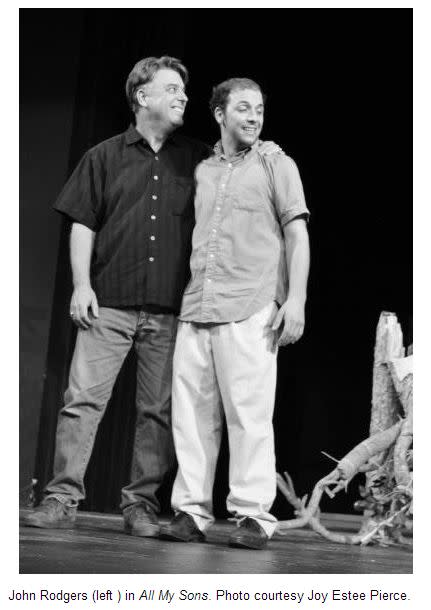 Rodgers shared where his passion for theatre started and why we should turn out for Sly Fox.
What first inspired you to become active in the theatre? 
I got a laugh with the one line I had in a 4th Grade Valentine's Day skit for the PTA—and I liked that feeling.
Is this a hobby or something you are pursuing full time? Why/Why not?
Hobby, because theatre is my creative outlet. Some have painting; others have sewing/crafts, etc.  Theatre combines many creative energies.
How long have you been with Community Theatre?/How did you get involved?
Since the 80's.  I had taken some theatre in college, but was away from it for several years because of work, raising a family, etc.  I saw an audition notice in the local paper that looked interesting, so I decided to give it a try.
Were you nervous at auditions for Sly Fox? Why/why not? 
I was not nervous at the audition because DCT does a good job of welcoming actors, and most of the people at the audition have worked with me before, so it was a reunion.
If you could describe Sly Fox in one word it would be: FUN!
What do you like about your character?/What is your character like?
I like my character because he lives in his own little world, slightly out-of-step with all that goes on around him.  He is a bit slow, but will eventually get his job done.
Have you guys had fun putting this production together? Any good stories?
It's been a blast.
What would you tell someone thinking about attending one of the Sly Fox productions?
Get ready to laugh—loudly.
What brought you to Denton?
A few years ago, after I had moved to the area, I saw the audition notice for M*A*S*H, so I decided to try out.  Even though I was new to DCT, I was cast in a very nice role, and everything about that experience was good.  Friendships were made that still last almost 6 years later, and there are those who still call me "Colonel."
Where are your favorite places to do some #Dentoning?
Resaurants, The Campus Theatre, and a few of the clubs like the Loophole.
Favorite thing that makes Denton quirky?
The way one can see a whole spectrum of people hanging around the Courthouse Square at any given time.
If the Mayan Apocalypse happened tomorrow and you got to eat at one last restaurant in Denton… where would you go? Sweetwater
Would you rather get free coffee drinks at all your favorite spots in Dent
on for a lifetime or have free access to any concert in Denton forever?  Concert—I don't drink coffee.