The day was already special to Amanda when Bryant suggested brunch at Denton's
Le Peep, knowing it was her favorite.  Bryant experienced what looked to be an embarrassing moment when the check came and his wallet was nowhere to be found.  He excused himself to look for it in the car.
Bryant was barely outside when Le Peep's manager approached and handed Amanda a note informing her that she was on a scavenger hunt.  Confused, she looked up expecting to see Bryant returning with his wallet when the restaurant door opened.  Instead, her best friend walked directly to the table with a rose and the first clue for the hunt.
Meet Bryant and Amanda. This is their story.
Kudos to Bryant for a thoroughly well-thought-out game.  Amanda's clues were doled out by her different girlfriends, each lady picking up where the previous one left off.  One by one, clues were presented at places of significance in Bryant's and her relationship, such as the TWU campus where the two met as students.  The final clue, however, arrived in a white limo.  The driver chauffeured Amanda to The Whitehouse coffee shop, an open mic venue where the couple first spent time as friends, later evolving into soul mates.
The driver pulled next to a curb and stepped out to open Amanda's door with a flourish.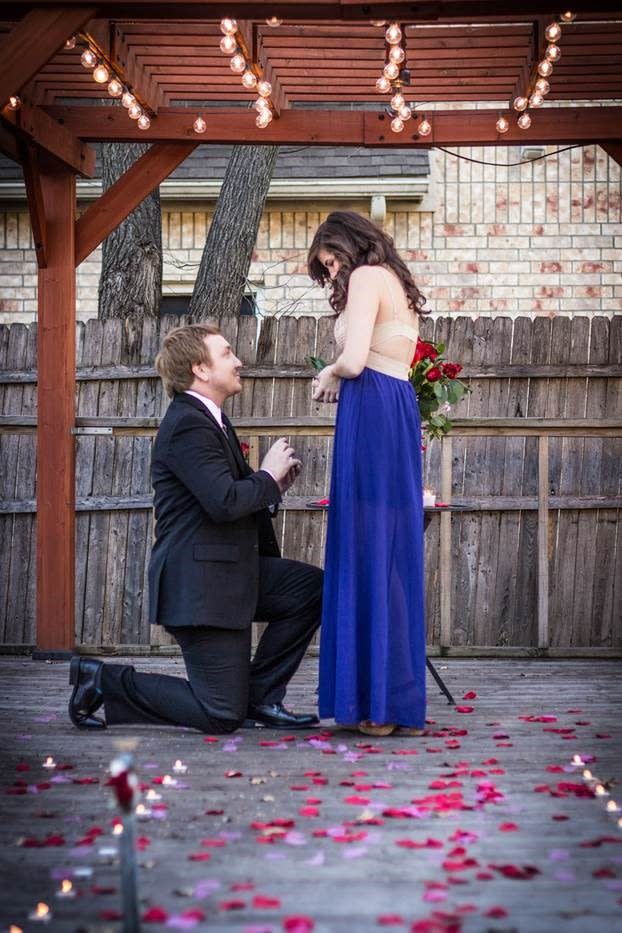 This special day was now most certainly the happiest in her life.  She stepped onto a path lined with candles and sprinkled with rose petals, Bryant waiting at the other end.  In case you are wondering, Amanda said yes to this proposal as original as Denton itself.
Now Bryant and Amanda are on their way to the altar.  They are in the throes of wedding-planning, and celebrating because the job just became much easier.  As the grand-prize winners of the Denton CVB's "Engaged in Denton" contest, the couple has an extra $2,500 in their pockets to dream a little bigger about the wedding day or even beyond to the honeymoon or perhaps their future home.  It's their day and their dream, and like any couple would be, they are ecstatic with this boost to their budget.
"We got everyone we know to vote for us and vote often," Bryant said about the contest.  That they did.  The couple racked up 2,040 votes out of the 4,827 recorded during the month-long social media competition where some 10,580 people visited the  "Engaged in Denton" contest page.
Bryant and Amanda ended up at the top between six couples competing for the prize, a handsome boost to any sized wedding budget.  To enter the contest, one member of the couple was required to make an appointment with any one of eleven participating Denton wedding venues.  While at the appointment, they had to snap a photo or short video during their site-tour and include a wedding prop as part of the shot.  They then posted their image or video to Twitter or Instagram and tagged it with the contest hashtag #engagedindenton or posted it directly to the discoverdenton Facebook contest app.
Weddings are big business in Denton.  With 50,000 college students in the immediate vicinity, this demographic alone drives the number of weddings planned in Denton, far more than in typical cities of similar size.  Bryant and Amanda are a perfect example.  And, with every bride-to-be comes the demand for venues, lodging, and wedding-specific services giving rise to a local industry that has blossomed in recent years.
The $2,500 prize awarded to Bryant and Amanda is sponsored by some of Denton's businesses who cater in part to the matrimonial trade.  Alpha Graphics-Denton,
Candy Haven, Denton Depot, Extreme Cuisine, Holiday Inn Hotel & Suites, Holly's Gardens and Florist, Karen Scruggs Photography, Zera Coffee Company and the Denton CVB all contributed something specific that will offset a cost the couple would have otherwise had to absorb in their budget.
"Winning this contest is a huge help for making our wedding day what we really want it to be," said Amanda.
The final requirement for the winning couple is they must tie the knot at one of the participating Denton wedding venues.   Bryant and Amanda will exchange vows next summer at The Milestone.
To the brides-to-be who didn't win this first-time "Engaged in Denton," take heart!  The next "Engaged" contest will be this coming fall, likely with a sprig of holiday for a theme.  A bundle off the bridal budget would make the perfect engagement gift, don't you think?