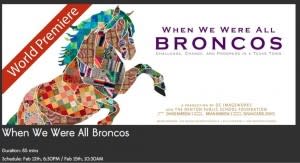 "When We Were All Broncos"
Thin Line's opening night was a record-setting blockbuster and "When We Were All Broncos" definitely did not disappoint.  The film tells the story of racial de-segregation and integration through the eyes of Denton High School 1972 Bronocs football team.  Several of those team members were at the film which was an extra-cool perk.   A who's who of Denton made cameo appearances throughout the movie and were also in the house last night.  More than 420 people made opening night history for Thin Line Fest.
Filmmaker David Barrow did a more-than-fine job of telling Denton's whole story, which means not just the happy parts.  I grew up in East Texas and remember this era unfolding differently over in the Piney Woods.  It was not a peaceful time.  But Denton's story was a beacon of hope to the nation – a testament that our town has always been original and independent.
One of my favorite quotes in the film was from a lady who says about the Denton Broncos that they came together and brought all that color on the field and made football look so pretty.  I am so proud of our city and our people.
The one missing element from the film was local music.  I think the soundtrack could have been much more interesting and Denton-centric with the myriad sounds of our renowned music scene.  Instead, it seemed to me kind of generic and canned.  The story holds its own so the music would only have enhanced the story for me.  The generic stuff didn't undermine, but it didn't help, either.
"When We Were All Bronocs" plays again Saturday morning at 10:30 in the Campus Theatre.  If you didn't make it last night, plan on Saturday.  It's definitely a Thin Line must-see.