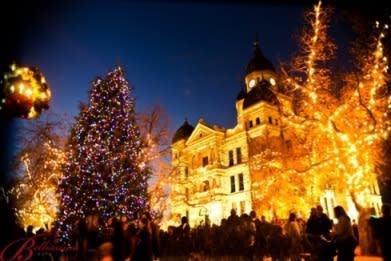 Mark your calendars for the 24th annual Holiday Lighting, Friday November 30th from 5:30 to 9:30 p.m. at the historic Courthouse-on-the-Square.  With holiday cheer filling the air, this family-oriented event is sure to delight people of all ages, whether you're 2 or 92.
Hop onboard the Wonderland Express (DCTA A-Train) to the Downtown Denton Transit Center for the Holiday Lighting Festival and avoid festival traffic.  Park at the MedPark Station or one of three stations in Lewisville and enjoy the scenic ride.  Even better, the DCTA staff will greet your family with hot chocolate and cookies before you take a bus ride or short stroll to the square for the festivities.  Check DCTA's special schedule and learn more details on their website.
From the moment you arrive, prepare for an experience that will stimulate all your senses.  You will hear the sound of live music from local musicians.  The smell of fresh-baked goodness will fill the air.  You will get to sink your teeth into tasty holiday treats that will delight your taste buds.  And of course, all the sparkling lights strung up around the Courthouse-on-the-Square will dazzle your sights.  The feeling of the holidays will practically be tangible.
Many fun festivities will fill the schedule for the Holiday Lighting Festival.  You can take your pictures with Santa, take a horse-drawn wagon ride, and vote for your favorite holiday drink in the Wassail Fest.  Plus, the kids can enjoy doing arts and crafts in the children's area.
Most importantly, let's not forget that the holidays are all about giving, so make sure to bring a toy for the Community Toy Drive benefiting needy families in Denton County.  For more information about the event, go towww.dentonholidaylighting.com.