Roughly a year ago, audiences were shocked, thrilled and brought to their feet by the darkly comic Get Out, a blockbuster from the mind of comedian-auteur Jordan Peele. Peele's critical and financial smash is currently making award season waves, further signaling that audiences of all types have a special place in their heart for films that can entertain while providing smart commentary on America's racial tensions. Enter Black Cop, a work of art that merges the kinetic psychodrama of Get Out with the weighty themes that one may expect from a searing documentary.
Written and directed by Cory Bowles of Trailer Park Boys fame and filmed in Canada, Black Cop follows a black police officer who decides to take justice into his own hands after becoming the victim of racial profiling. Through a series of confrontations with members of his community, the police officer flips the switch and peels back the layers on the heartbreaking and infuriating issue that is police brutality.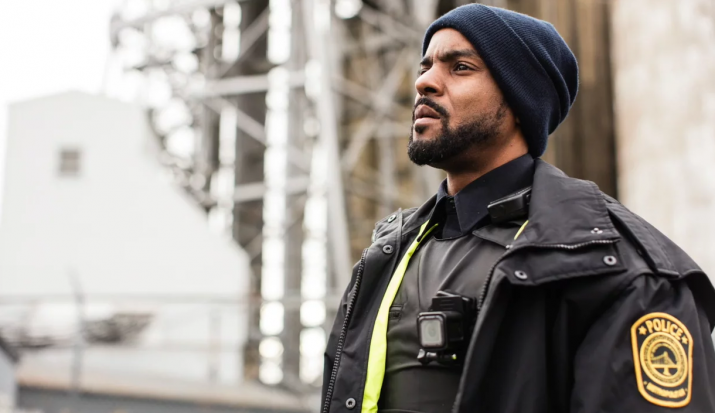 Actor Ronnie Rowe Jr. portrays the eponymous title character, who goes by no other name than "Black cop." In fact, the only character that Bowles names in his multi-faceted script is "SG," a victim of police brutality. In doing so, the writer-director gives a name to the character whose real-life counterparts are so often forgotten and voiceless in the face of hatred and oppression.
This is but one subtle storytelling move in a film chock-full of subtleties that, one after the other, make for a wildly entertaining ride. Through a series of deft creative moves—from piercing monologues to music-driven montages—Bowles rails against the forces that keep African Americans on the margins throughout North America. And while many viewers may find themselves unsettled by the violence perpetrated by the titular character, Bowles' film should be celebrated – not dismissed – for the hard-nosed, no-filtered way in which he turns the tables and tackles the taboo topics which many people still would rather ignore than face. Likewise, viewers may also take issue with the ending – or, as some may believe, lack thereof.
But therein lies the true beauty of Bowles' work: He knows that many of these issues have no true ending, so why should his story?
---
Black Cop is a narrative feature and runs 91 minutes and will be shown Saturday, January 27 at 9 p.m. with Driving Force and Jake as part of Denton Black Film Festival. To purchase tickets at the online box office, click here.