Now that we have decked the halls of our home for the holidays, I enjoy looking at the decorations, especially the snowglobes.  Our daughter collected them for many years, so we have quite a few.  Each globe holds a peaceful scene.  Turning the globe upside down and then upright again creates a gentle snowfall on the perfect little world inside the glass.  It's all cozy, calm and harmonious in there, the way we wish our world could be sometimes.
I also love sappy Christmas movies.  There is one such movie called "Snowglobe."  The story is of a young woman under pressure in her personal life wishing she could escape into the uncomplicated, beautiful Christmas portrayed in a snowglobe.  The globe scene is a snowy, snug village with happy people in bright scarves and mittens ice skating in the village center.  As expected in a mushy movie plot, she falls asleep and wakes up in a   snowbank beside the ice rink in her globe.  I won't write a spoiler here since most of you will likely dash to Netflix and watch the movie right away.  What I will tell you is that idyllic life inside the snowglobe is not what she imagined.
Earlier this week I had the pleasure of hearing a presentation by Monte Jensen, owner of Denton's Mellow Mushroom and Chairman of the Denton Main Street Association (DMSA) board of directors.  He talked about the growth underway in downtown Denton, the area's transformation over the past years, and about the festivals produced downtown to attract Dentonites and visitors to discover this asset from which our very essence as a place emanates.  He likened downtown to a Norman Rockwell painting but with a very important caveat.  "Denton is not in a snowglobe," he said.  "What happens here is organic, and organic is alive, evolving, changing."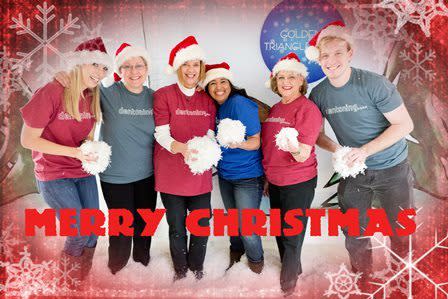 The DMSA mission is preserving and promoting downtown.  Monte's snowglobe analogy drove home the point that preservation is not the same as stagnation.  Think of water, a bubbling brook.  It's moving, glittering and lively until you come upon a dormant spot where the water has pooled off to the side.  Moss sits atop the water here, and in our neck of the woods becomes a breeding ground for mosquitoes and other undesirables.  The flowing water is where the beauty thrives, where we love to dangle our feet.  Preservation holds on to the beginning, the real McCoy, and celebrates roots while letting the brook babble on at the same time.
Denton is incredibly fortunate to have our city center.  Downtown is kind of Norman Rockwell in that what you see has been here more than a century.  It's the real deal.  Cities all over the country have invested millions of dollars trying to create from scratch what we have had and lovingly, sometimes painstakingly, preserved all along.  But does that mean it has not changed?  Of course not.  Just look at the square.  Where once an Opera House anchored a corner is now Recycled Book, Records & CDs.  Where once a tiny Texas Normal College (now UNT) opened its doors to twenty-five students, Thomas Ethan Allen sells beautiful furniture.  Where once the Denton National Bank conducted business, people live in lovely apartments, and businesses like From the Future wield global influence through the digital apps and games they create.  Where once stood a dry goods store now a European-style pub welcomes guests upstairs in old-fashioned speak-easy style.  Where once the Lacy Hotel offered lodging, a new restaurant will soon open.
Progress within preservation takes special care, and Monte talked about the importance of that process.  He was transparent sharing the pain of the improvement project underway on Hickory Street in front of his restaurant and many other anchors of our now vibrant entertainment district.  He encouraged his listeners that business is open and as dynamic as ever.  He showed renderings of the gorgeous streetscape that will soon be reality.
Among all the snowglobes I have ever enjoyed, I must say there has never been a bulldozer within the scene.  You see?  In the snowglobe, nothing really ever happens.  It looks perfect, because absolutely nothing is going on in there.  Watch the silly movie.  You'll see what I mean.
Perfect does not exist, and hallelujah for that!  Denton is not a snowglobe.  Snowglobes are pretty to look at, but it ends there. We are alive, babbling like the brook, over decades-old stones shaped by time and motion.  It's why we are original, independent Denton.