Park Once, Experience Three Local Gems In Denton
Though Denton's nightlife is always fun, some of my favorite Denton memories are day trips. Whether it be a date with my husband, or just going out with friends, my outings to the city remind me what a pleasure it is to visit Denton. So, here's my Denton Day Date, an awesome way to park once and find a trifecta of fun with three of Denton's local gems!
In larger cities, parking can be a real pain. In Denton, not so. I usually find a shaded parking spot at the Patterson-Appleton Arts Center. However, there are parking lots and street parking throughout the Denton square area too. If mass transportation is an option for you, then the downtown A-Train station (that connects to the DART) is a hop, skip, and a jump away as well.
---
Stop No. 1:
Armadillo Ale Works | 221 S Bell Ave
A few blocks off the downtown square, you'll find Armadillo Ale Works. This starts our little daytime outing with something very dear to my heart: caffeine! Armadillo Ale Works not only brews amazingly tasty beers and craft sodas (more on that a little later), they have a wide variety of coffee to get your caffeine fix as well. They call it Armadillo Coffee Works and it opens at 8 a.m. every Tuesday through Sunday.
When chatting with fellow patrons, Dentonite Tihleigh says she especially likes the cold brew coffee. LaRee agrees, saying, "Any coffee I've gotten at AAW has been awesome."
These are my thoughts exactly. I'm a huge fan of their made-from-scratch Vanilla Bean syrup, which goes great in an iced latté. No matter what style of coffee you enjoy drinking, Armadillo Coffee Works provides the kick you need. Get yours to-go, however, because this is only the first stop. For our next adventure, we're heading onward toward the arts!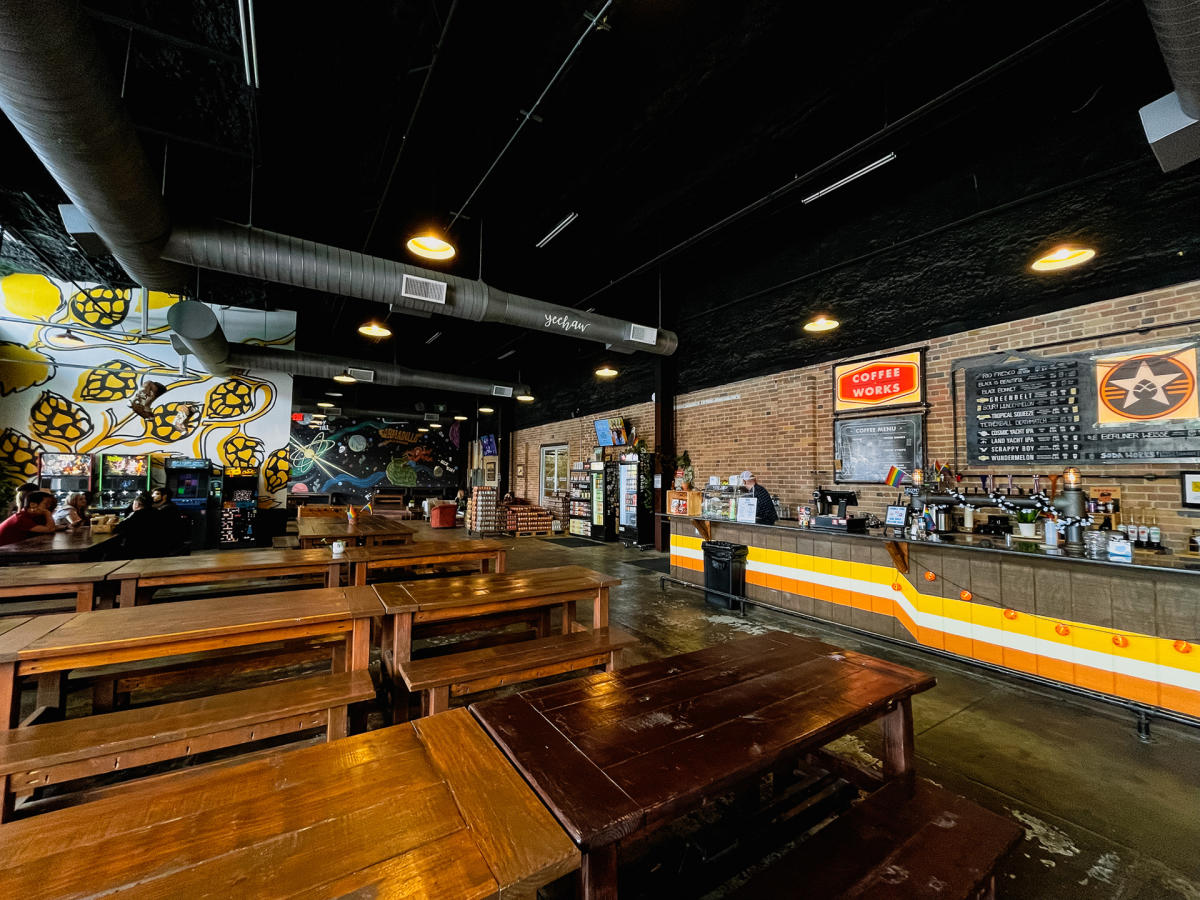 Interior of Armadillo Ale Works. Photo by Ashley Villers.
---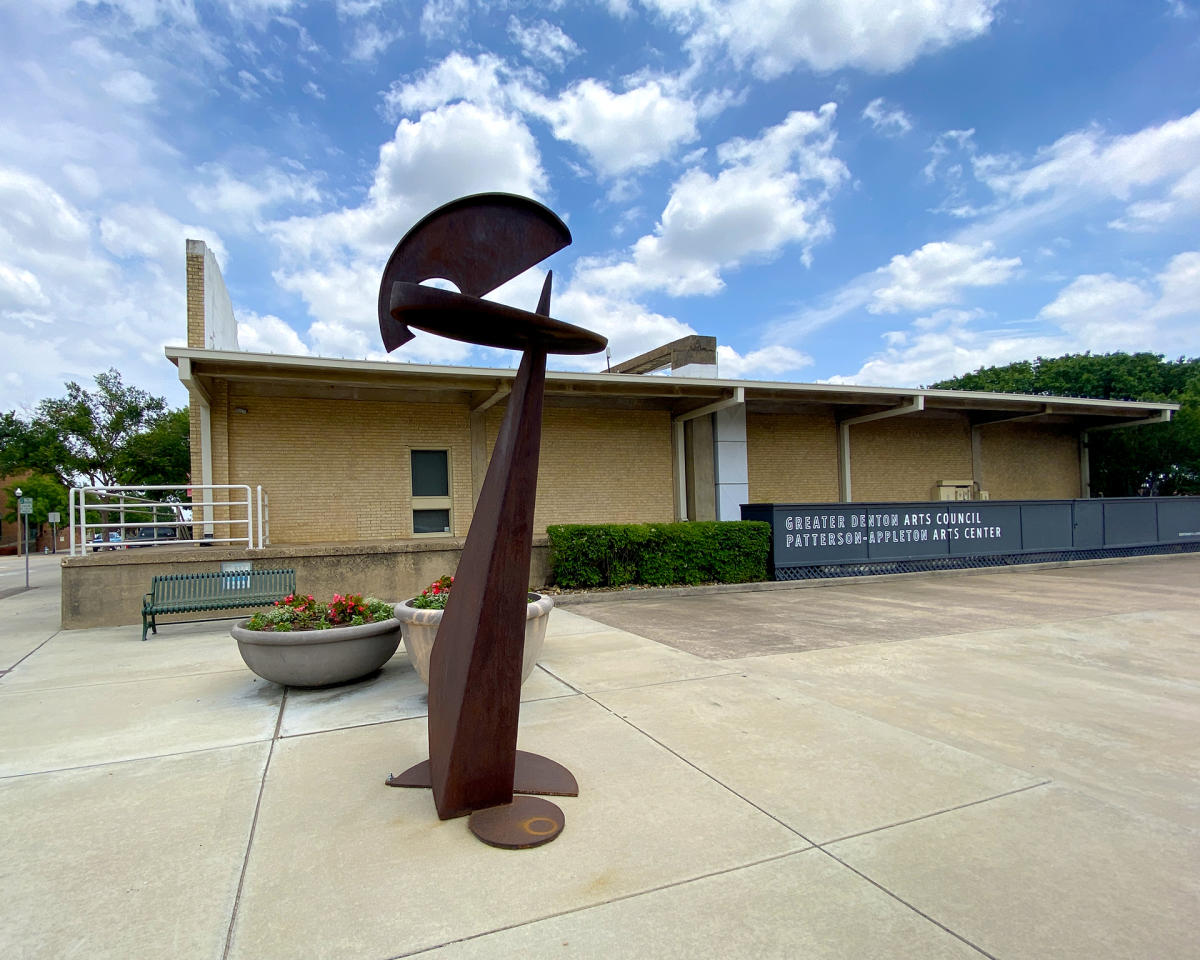 Metal Sculpture Outside of Patterson-Appleton Arts Center. Photo by Ashley Villers.
Stop No. 2:
Patterson-Appleton Arts Center/Greater Denton Arts Council | 400 E Hickory St
Go past Boca 31 (we're coming back here, so breathe in REAL DEEP and smell what's cookin') and you'll see the Patterson-Appleton Arts Center. Enjoy the statue garden in the parking area while finishing up your joe-to-go, then head toward the gallery entrance. The gallery is open starting at 11 a.m. Tuesday through Saturday, and visits are absolutely free! The PAAC houses the Greater Denton Arts Council, a non-profit community arts organization that promotes the arts in the Denton area. Upon entering the building's beautiful glass doors, you'll be greeted by a member of the GDAC team. Simply sign-in at the front desk and you're free to explore all three galleries.
The galleries make for a cool escape from the hot sun, but the air conditioning isn't the only thing at the PAAC that will blow you away. The center is always packed with imaginative masterpieces from artists across the county (and even the world). 
Speaking with people in the GDAC scene, I felt the tremendous importance this place has for the Denton art community. Jason and Brendan suggested the photography exhibit from the Thin Line Festival. Hilari described the annual Materials Hard & Soft exhibit, saying, "The exhibit has so much variety and brings artists from other places to Denton." And lastly, Kiara recommends the student art exhibits. "Denton students are so talented," she says.
When asked why GDAC is so important to Denton, Lucas says it best. "The Arts Council is [the] home base for community arts in Denton. In addition to the range of fine arts gallery exhibits on display each year, which are always free of charge, GDAC offers a wealth of programming for families and children, and the Patterson-Appleton Arts Center serves as a venue for arts group meetings, events, and presentations. Especially in light of the last 16 months, we need organizations and physical spaces for creative gathering and discovery, and this goes to the core of life in Denton."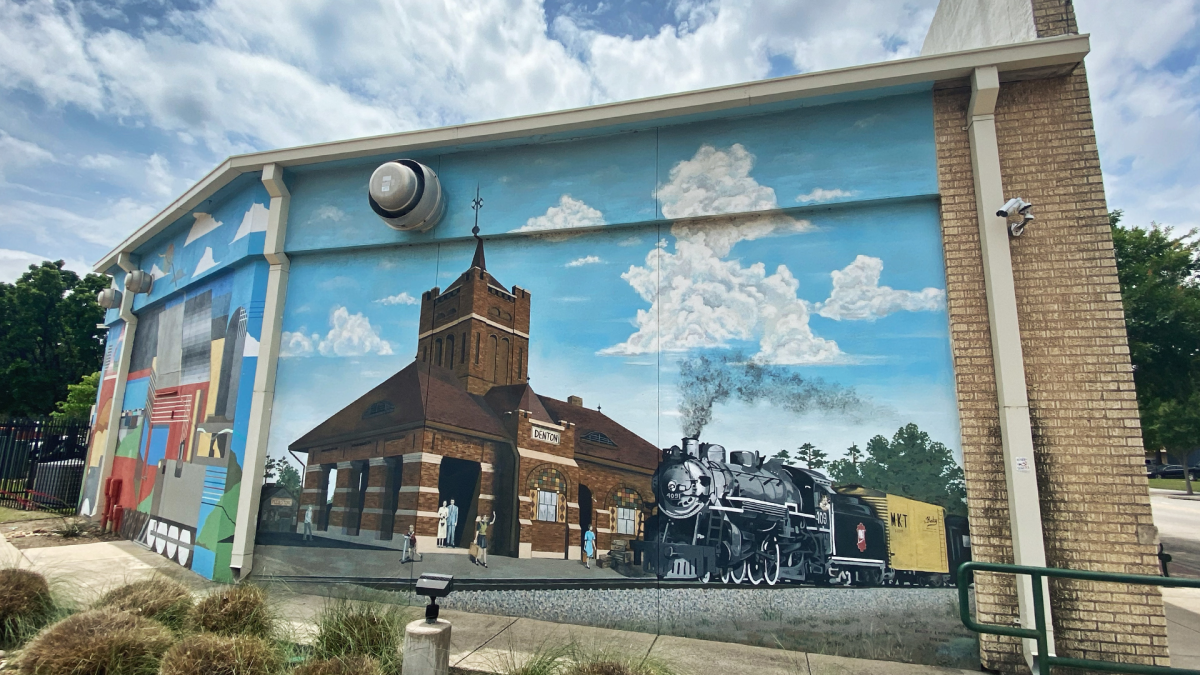 Greater Denton Arts Council Murals. Photo by Ashley Villers.
Jenny Bates, the GDAC Exhibition Coordinator for the last four years, tells us what the organization means to her. "GDAC is where I can share my love of Denton's creativity and talents with other people. I love helping Denton artists show off their creations with our community. My favorite part of working at GDAC is when someone tells me 'this is my first gallery show,' and they're so excited about getting to show off their artwork."
No matter where you're from, it's great to support the arts. Membership info for GDAC can be found here. To confirm their hours, give them a call at (940)-382-2787. But hey, if they're ever closed, you can also visit current galleries from the comfort of your home through their website, found here.
The art found at Denton's PAAC is great food for thought. But what about food for, well, food? All this walking around the galleries has stirred up an appetite. Let's head over to point number three on our Denton day adventure!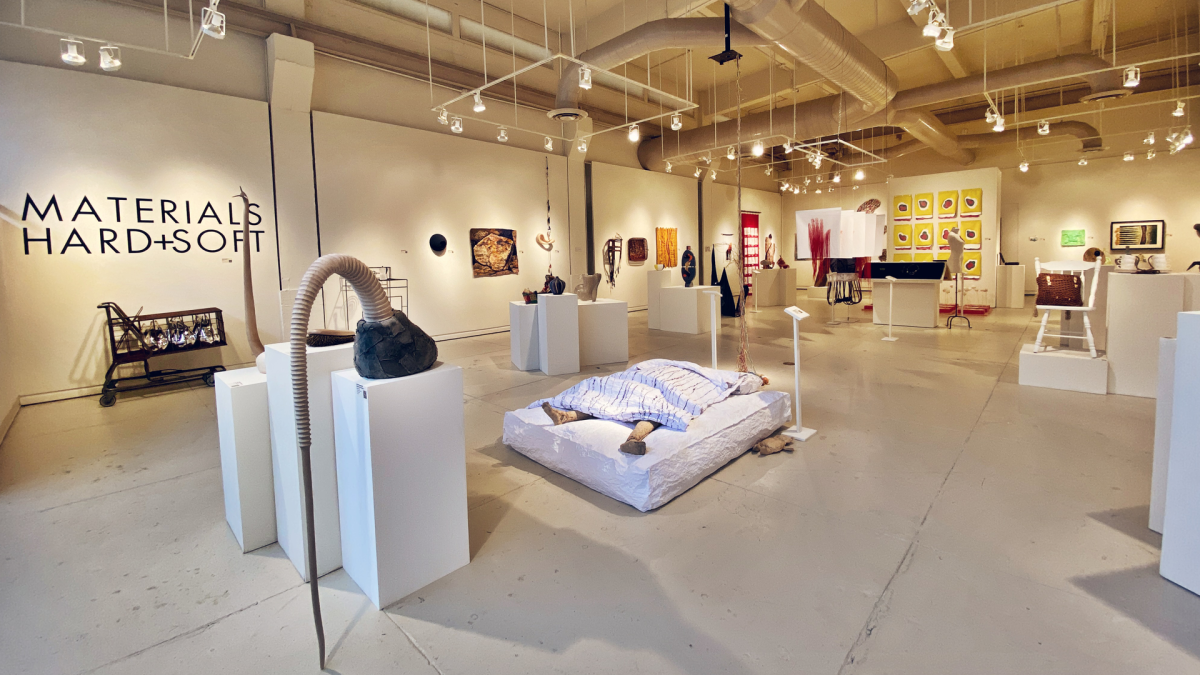 2021 Materials Hard + Soft Exhibit. Photo by Ashley Villers.
---
Stop No. 3:
Boca 31 | 207 S Bell Ave
It's time for Boca 31, Denton's premier site for Latin Street Food. The building's colorful appearance is just the first example of Boca 31's inviting atmosphere. The savory smell emanating from the restaurant is the second. Pull on that steel handled door, baby, and get ready to explore the tastes of Latin Street Food! As you walk in you'll see a long line forming. Fear not, for these pros work fast. The board on the right showcases their daily menu, and any regular of Boca 31 will tell you the empanadas are a must-try. Even Chef Tony suggests "The guava and cream cheese empanada, because it's the best." I always get one for a sweet post-meal treat.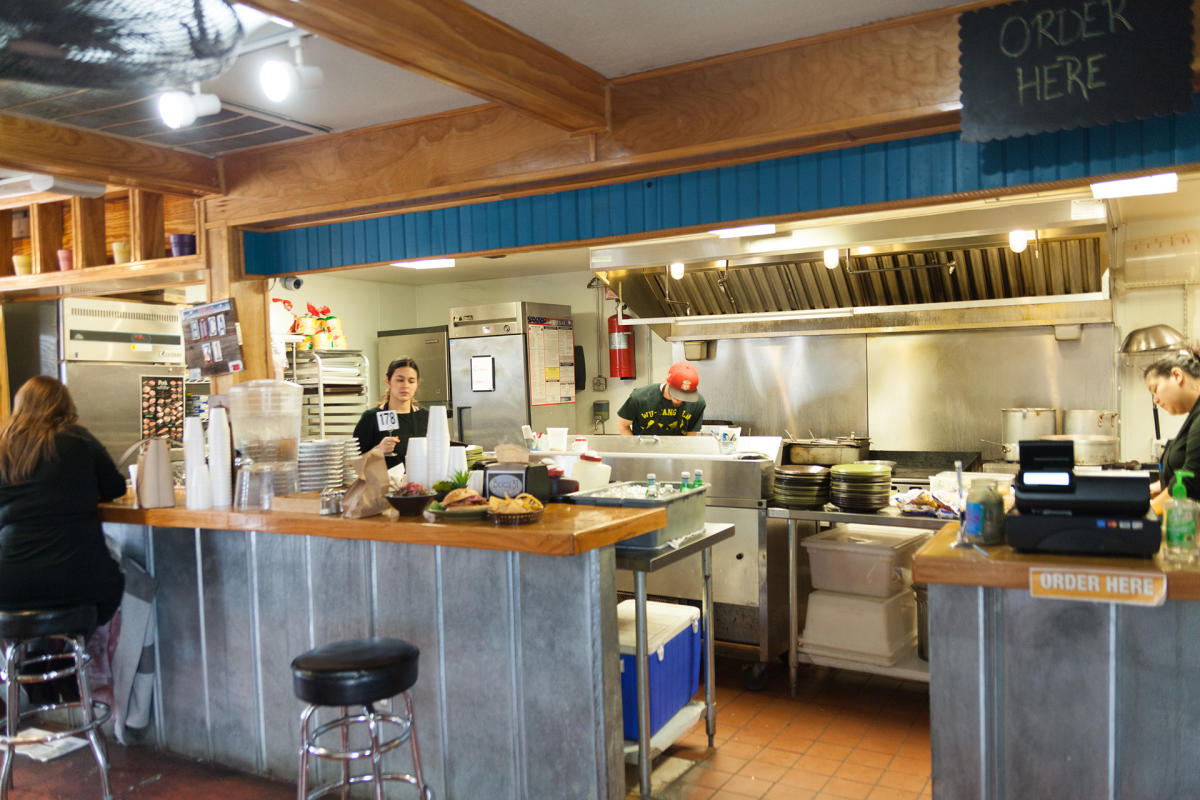 Food Counter at Boca 31. Photo by Shelby Ward courtesy of Boca 31.
There are also vegetarian options! Melissa suggests the sweet potato veggie taco, and Kelly and Leith recommend the yucca fries. My personal favorite is the tofu fajita bowl with extra garlic crema sauce. It's so good that I even get a side of tofu and crema just to dip. Allison agrees when she simply responds "that crema" as to why she loves Boca 31.
Thomas' advice to anyone visiting Boca 31 for the first time is to "Get the hibiscus tea." I will put my hand over whatever religious literature you desire and swear the hibiscus tea will bring a smile to your very soul. So be sure to start your lunch with a cup.
This spot is a favorite with locals and visitors. Tori states she loves Boca 31 because it is "Authentic and always fresh. The people are amazing and genuine. I'm a total fangirl for Tony, lol." She's not lying. Tony has a fan club of followers who watch his social media religiously, looking for the culinary creation for the day (follow him on Instagram: @celebritycheftony).
"Tony and the incredible staff. They are always friendly and they pump out some amazing food," is why Desmond loves Boca 31.
A 13-year veteran chef, Tony has made delicious food at Boca 31 for the last two and a half years. He is the brains behind the daily specials, so I asked him what inspires those creations. "Anyone and anything. Specials come from just creating something different with the product we have, or just any ideas that pop up after surfing the Internet or talking with friends."
Tony's favorite thing about Boca 31 is "The people I work with," and that includes the owner and chef, Andres, who has 18 years of experience under his belt. His advice for anyone visiting Boca 31 or Denton is to "Try a couple tacos and empanadas. Be nice. Support your local businesses. Try new restaurants, and try things you have never heard of!"

Whether sitting inside or out on the wrap-around patio, Boca 31 is the perfect spot to eat some excellent food and soak in the Denton atmosphere. Their menu, hours, and more of their story can be found here.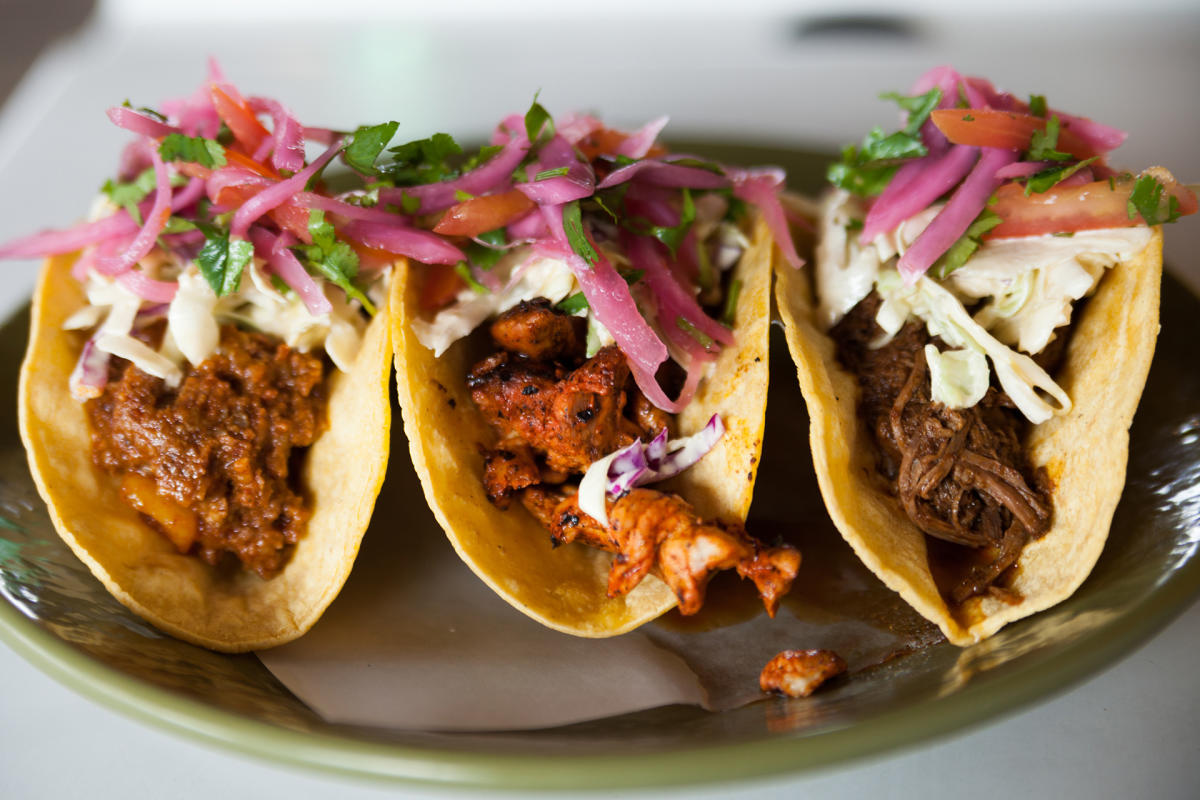 Street Tacos at Boca 31. Photo by Shelby Ward courtesy of Boca 31.
---
Stop No. 4:
Armadillo Ale Works | 221 S Bell Ave (What's this?! A Surprise Fourth Stop?!)
I wasn't lying when I said we were hitting three local gems. We're just hitting one a second time around! With a full belly—or full hands if you took your lunch to-go—stroll back on over to Armadillo Ale Works. If you didn't see it before, you'll notice that their walls are covered with beautiful murals by local artists.
The atmosphere in AAW is the definition of chill. Pick a bench, or couch, and then head to the bar to grab a beverage from the friendly bartenders. These awesome people are one of owner Bobby's favorite things about the brewery. "Our amazing staff," he beams. Veteran bartender Bryan agrees. "All of my coworkers" is his favorite thing about Armadillo Ale Works. In fact, every employee seems to feel the same way. Heidi brags that "It's a great place to work and hang out, the staff is all super friendly and plenty of space to enjoy your beer or get some work done."
After all the Denton gems you visited, you deserve one of Armadillo's delicious craft beers. Tori and Camille suggest the Hibiscus Zinger. Armadillo Brand Ambassador Kaeley echoes the suggestion. "Hibiscus Zinger! It was my first beer that I tried there back in 2018 at Pizza Palooza. I never was a huge beer drinker, but that one changed my mind!"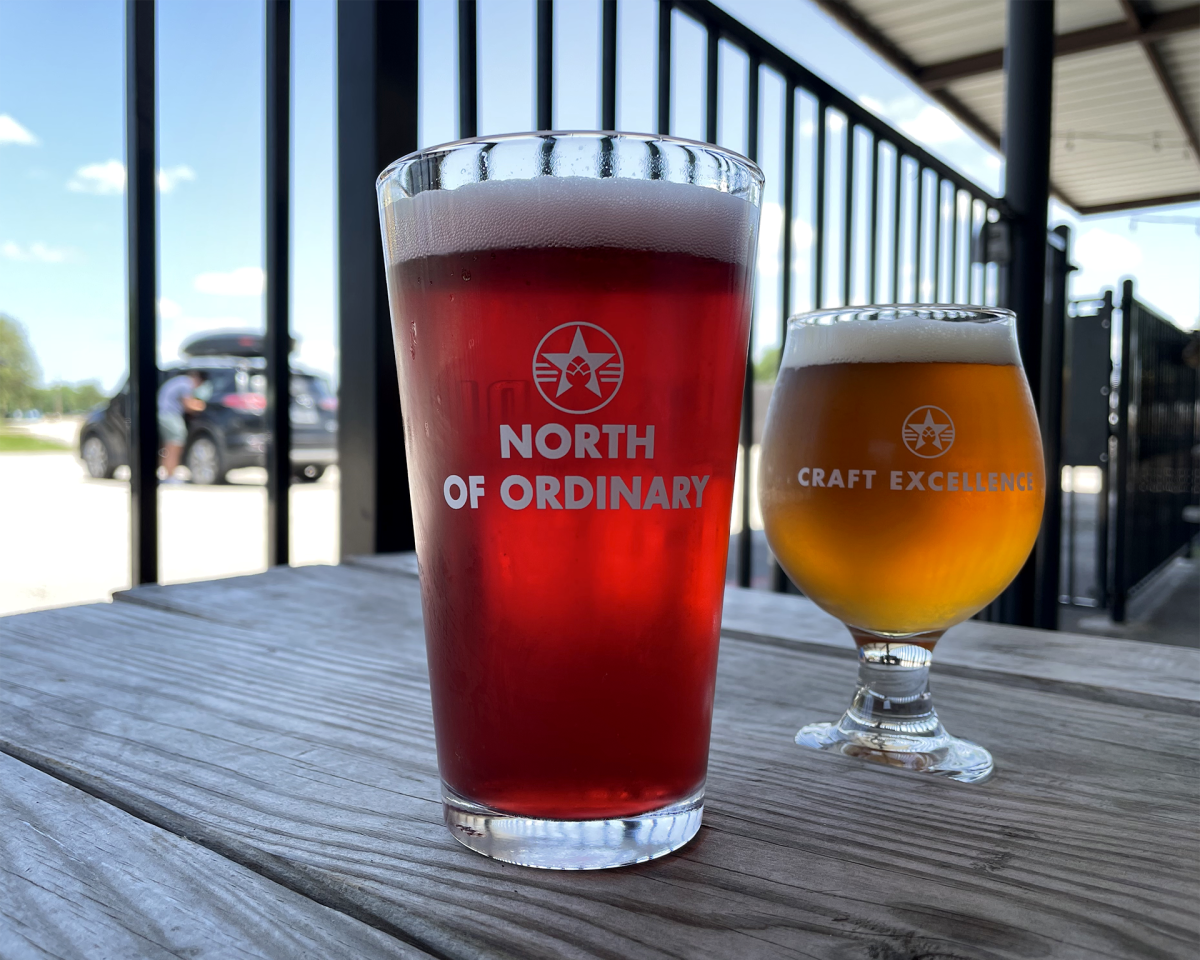 Two Beers on the Patio of Armadillo Ale Works. Photo by Ashley Villers.
CEO, head brewer, and founder Bobby Mullins doesn't have a favorite. "It changes constantly. Right now, I've been enjoying Tetherball Deathmatch. It's a perfect beer for this summer heat." Taproom Manager Michael agrees, "My favorite changes from time to time, but Tetherball Deathmatch is my favorite at the moment. It's a great summertime beer!" Beerista Josh is also a fan because, "I love the banana taste of our Hefeweizen, and it's very light."
If you're a die-hard IPA fan, like Taproom/Events Manager Madison, then try "Land Yacht IPA. It's one of my absolute favorite classic American IPAs. It's well balanced, no fluff, exactly what a good classic IPA should be."
Sizi cannot choose just one. "I like Brunch Money, Quakertown Stout, Land Yacht IPA, Greenbelt, Idiot's Hill, and the occasional Wundermelon." Desmond says, "A Quakertown Stout is always a good go-to."
Some aren't into anything fancy, just a beer that tastes like beer. Scrappy Boy can do that for you, which brewery production employee Joseph says is "for every day." He's even nicknamed himself "Resident Scrappy Boy."
My favorite, as Eric emphatically agreed with me, was the Berliner Weiss. But Armadillo doesn't just do beer. They are also home to a seltzer: Rio Fresco. Melissa likes the Blood Orange and Hibiscus seltzer, while Randi likes them all.
If you're with your family or just looking for something non-alcoholic, Armadillo also offers craft sodas. David says he likes every soda flavor they have. The Armadillo Shift Lead/Trainer loves the "Bee's Knees overall, if I'm honest."
Armadillo isn't just another brewery that came from the craft beer boom. It's a home-grown, community-oriented business. "I grew up alongside the Mullins family, and watching Armadillo go from garage to this fully fleshed out operation has been awesome. Their products are solid, and I love supporting local," LaRee tells me. Thomas adds "Bobby Mullins is a great guy. We went to high school together."
I asked Bobby what inspired the creation of the beers. "Friends, family, culinary experiences, and the occasional silly idea," was his response. Territory Sales and Distribution Manager Timothy said, "We are a culinary-inspired brewery, with many of our specialty beers being created based on family dish recipes. We tend to create beers in styles that are trending as well as be innovative in creating new styles that have yet to be created." Bryan puts it a bit more dramatically stating, "I believe it's a healthy mixture of science and the movie Conan The Barbarian."
After selecting the beverage of your liking, you can even grab a board game from the stack by the bar. Armadillo even hosts a variety of fun events. Melissa says they're the place to start for first-timers. "Attend a public event for an activity while trying the brews." Their calendar can be found here.
I asked the staff if they had any tricks or tips for visitors and they gave me some excellent insights.
"Strike up a conversation with any of the employees, come in with an open mind, and embrace the weird," suggests Madison.
Lincoln agrees, "Ask the bartenders for recommendations and tell them what you usually drink, we're all pretty good at matching what you'll be into. Also, ask about the names of the beers! Most of them have interesting backgrounds."
David says the adventurous thing to do is ask the bartender "to get you a flight and let them surprise you with the beers on it or ask about the off-menu items!"

Timothy says to "Be sure to come in and enjoy everything we have to offer, whether it be coffee, craft sodas, or several of our award-winning beers or new creations. We also have some amazing beer and coffee cocktails to offer. Bring everyone, including kids and dogs, as we are very family friendly."
Bobby gives up a secret menu suggestion, "Try the Wunderlemon Shandy." (Half Wundermelon and half Bee's Knees Lemonade Soda Pop.)
LaRee sums it up perfectly by saying to a first-time guest, "Welcome home." But Eric gives the best advice: "Make sure to get a walking beer."
Armadillo closes between 8 p.m. and 10 p.m., depending on the day, but that is plenty of time to end your day trip in Denton with a tasty drink and a smile on your face. Still, these three gems are only the tip of Denton's iceberg. Click here to discover more awesome places to visit around Denton!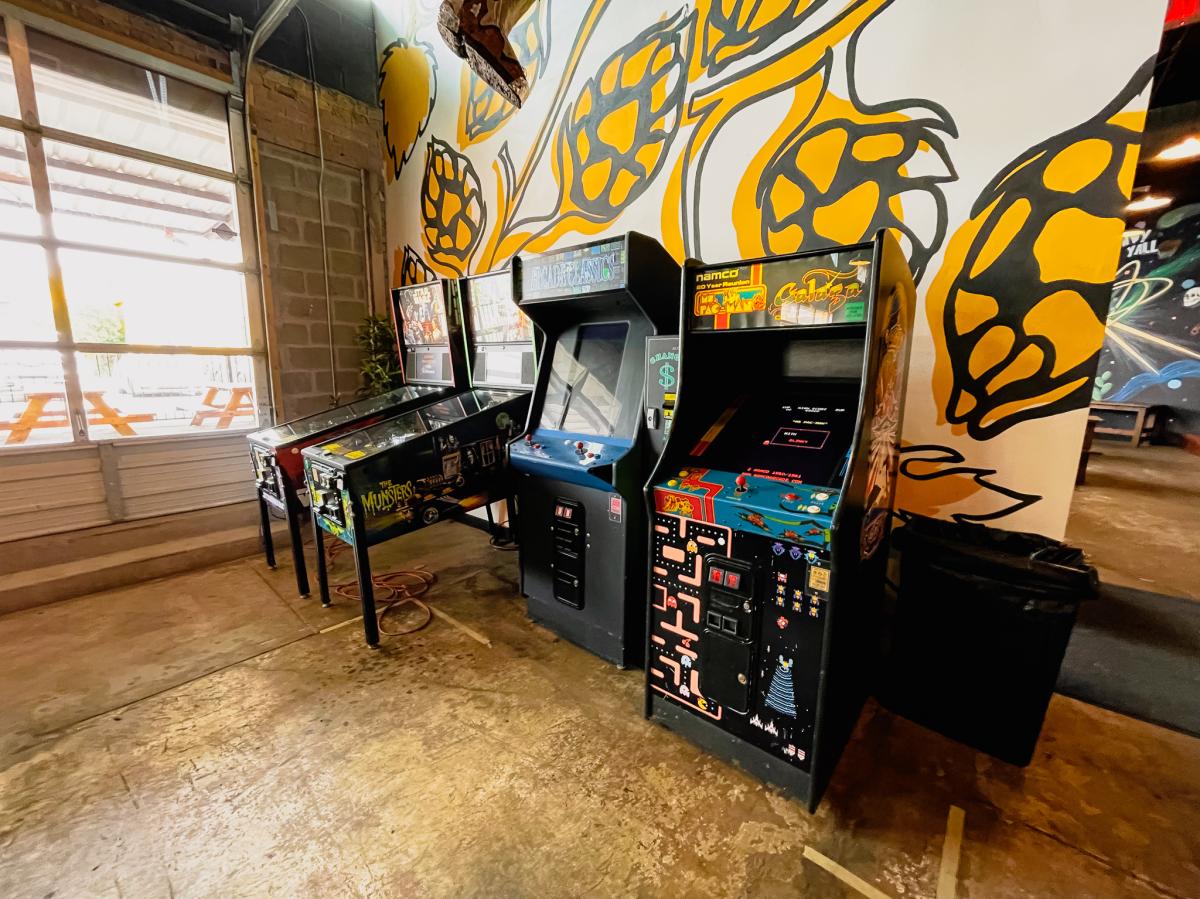 Arcade Games at Armadillo Ale Works. Photo by Ashley Villers.