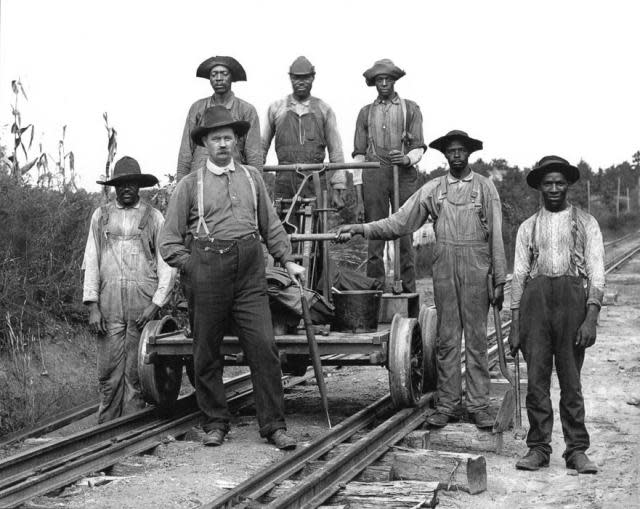 February 2013 Lecture: Thursday, February 21, 2013, 12:15 PM – 1:00 PM
Bare Feet to Iron Rims: Denton's Transportation System and the Black Experience
Presented by: Deborah Kilgore
Before there was a Denton, North Texas was crisscrossed by animal trails and Native American paths.  Explorers and settlers followed, blazing new trails as they mapped the empty plains.  The hooves of buffalo were replaced with oxen and mules pulling iron-rimmed wagons as settlements grew into towns such as: Denton, Alton, Krum, Lewisville, and others.  From two slaves in the county in 1846 to 594 slaves in 1864, the Black experience in Denton was limited to farming and ranching, experiencing little change after the Civil War ended.
The arrival of the railroads connecting Denton to Ft. Worth, Dallas, Denison and points north transformed the area and the lives of Black residents.  Hired to build and then maintain the railroads in the 1880s, Blacks settled in communities around the county and the city of Denton.  They worked the railroad as cooks and porters serving passengers at the train stations, as well as yardmen, freight handlers and baggage men as the pace of business expanded. As rails were replaced with iron rims and rubber tires of automobiles at the turn of the century, the grip of Jim Crow segregation laws tightened leaving many Black residents unable to ride until the state NAACP began fighting to end discrimination in 1956.
Discover Denton's transportation history and the role played by generations of Black residents who built, maintained, and fought to use it with a talk by Deborah Kilgore, doctoral candidate at the University of North Texas.
All Courthouse Museum exhibits and lectures are free and open to the public.  The courthouse has handicapped parking and accessibility through the north entrance. The Courthouse-on-the-Square Museum is located in the historic Denton County Courthouse at 110 W. Hickory in Denton, TX.