Denton is a festival city. As the appointed destination marketers for Denton, the CVB builds much of our messaging around special events to attract different audiences with niche interests to discover Denton's special sense of place. Pick up a copy of Denton Live magazine, visit our discoverdenton.com website or follow any of our social channels, and you'll see what I mean. Our wealth of festivals offers continuous fresh content for how we are able to talk about our city's attractions and amenities in a way that never stales. This is a wonderful attribute that sets us apart from other destinations in the tourism marketplace.
The North Texas Fair is the last big event of the summer. If you noticed our marketing leading up to the fair's nine-day run that ended last weekend, you saw Denton presented through a North Texas Fair filter that talked rodeo, cowboys, music, fair food and carnival rides. Today, just a week later, the message is still Denton but framed with art, classic cars, Chalk Fest, music and antiques as we build toward this coming Saturday's 16th-annual Arts, Antiques & Autos (AAA) Extravaganza. There is a great story by Matthew Brown in the current issue of Denton Live about all that will unfold on the square Saturday.
There was a time not so long ago when we referred to spring as festival season. Not so anymore. Festival season here never ends. I was visiting with a couple from McKinney not long ago who told me they come to Denton almost every weekend. "We don't even bother checking the calendar most of the time," they explained. "We already know something is going on. And Denton never disappoints."
True to these McKinneans' observation, the AAA Extravaganza is not alone. The Horse Country Tour, Blues Fest, Oaktopia, Dog Days of Denton and Greenfest all squeeze into September surrounded by the ongoing Mean Green Game Day celebrations, the first of which is September 19. And these are not all, just the biggies! On their heels, October's lineup is just as varied and impressive.
Our Denton Original Independent brand promises to deliver the very characteristics on which we pride ourselves as a community, the foundation of which is creative diversity. I can think of no other city able to boast a calendar as rich as ours. We are full of events that invite experience of the cultures, colors, peoples, interests and creativity that make Denton Denton. Experience is our most powerful attraction. We don't just promote, "Come and see." We promise, "Come and do. Feel. Be part of this fantastically original place for a visit and leave impacted in a significant way." Festivals and events give us the vehicle for delivering on that promise, and we do for thousands of visitors every year.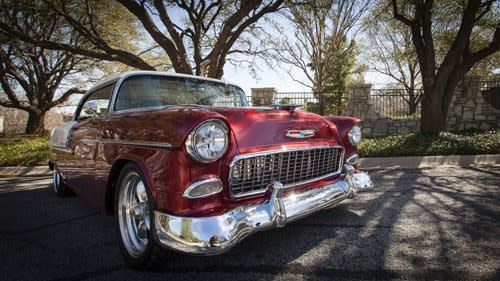 Vehicle is the perfect segue back to the AAA Extravaganza on Saturday. People will stroll downtown's sidewalks. They will wander among hundreds of hotrods, cars, trucks and motorcycles. They'll pause here and there to enjoy arts and crafts. Many will bear attic treasures dusted off for appraisers to assess. They'll poke their heads in here, shop a bit there and discover intriguing pieces of Denton they didn't realize existed.
One such discovery will be the Discover Denton Welcome Center (DDWC) at 111 W. Hickory. You know about it, of course. It will be the ultimate exclamation point to our marketing – delivering a customized Denton experience for every visitor. I talk about it often in this column. What will be different this Saturday, however, is that everyone will see it for the first time in its about-to-be-born state.
Think of it like seeing the sonogram right before the baby arrives. There are no hammers or drills at work yet. No beautiful décor. We are in that hurry-up-and-wait phase for the labor to begin. But the DDWC will be open to the public from 10 a.m. to 3 p.m. during the AAA Extravaganza for a one day sneak preview hard-hat tour. CVB staff and partners will guide guests through the floor plan with creative exhibits designed to show in a visual, experiential way the front door to Denton that is coming to the square later this fall. This is an opportunity not to be missed, the one chance to see it first-hand before construction begins!
We tell the Denton story through festivals.Is it not perfectly fitting that we unveil the DDWC attraction in the midst of the AAA Extravaganza, one of our signature events?
See www.dentonmainstreet.org for AAA Extravaganza details and car show registration.