Denton exhibits rare bridal gowns from the past
By Amira Ansari Photos by Blake Hampton
Created by hand in the year 1880, a delicate khaki-colored silk wedding dress filled with tiny floral print, a French bustle and mother-of-pearl buttons shines in the spotlight. Another wedding ensemble, designed in 1840 and carefully styled with warm toned ecru silk, full-length with a straight silhouette and purposeful elbow length sleeves beckons in the distance. These exquisite and frail dresses, each one more than a century old, tell a unique narrative all their own; a tale as mysterious and timeless as the dresses themselves.
Ten years in the making, Margaret Chalfant, executive director of the Greater Denton Arts Council, is finally getting a chance to showcase these rare wedding dresses to the public in an exhibit that will run from June 28 to Oct. 24. The exhibition, named "American Brides: Inspiration and Ingenuity," will take place at the Meadows and Gough galleries in the Center for Visual Arts.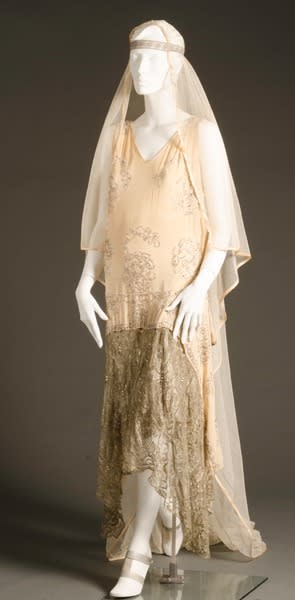 1920s gown
"I think it [the exhibit] would be interesting to anyone that is interested in fashion and traditions," Chalfant says. "Anyone who has been a bride would enjoy it, or anyone planning a wedding to see some of the different things that have been done traditionally — not just the beautiful handwork, but the different traditions as they've come down, like the white or cream ivory wedding gown that was made popular by Queen Victoria."
Historically, Queen Victoria popularized the white wedding gown. In 1840, the infamous and idolized Queen made headlines when she got married in a simple, pure white silk wedding dress. A white wedding dress was not the norm a century ago. It was common for women to get married in their very best dress, usually a dress of color.
Myra Walker, curator of the Texas Fashion Collection at UNT since 1987, said the American bride has been less conservative since the turn of the 20th century.
The exhibit will feature numerous dresses of elaborate color. Dresses of pale green, yellow taffeta, purple calico and black velvet will be showcased. Many of the older dresses will not have the designer's names on them because before the '40s it was not common for designers to apply a label to their designs.
Designers showcased will range from Victor Costa to Costume Designer Winn Morton to Betsey Johnson. Original bridal gowns by Chelsea Bell, Alisa Otto, Remy Odukomaiya, all recent Master of Fine Arts graduates from the UNT Fashion program, will be on display.
"There is a lot of social history that people can relate to when they think of their own wedding dress or their grandmother's wedding dress or their cousin's wedding dress," says Walker, "It immediately sets people into a nostalgic story-telling mode and when we show fashion, whether it is from the 19th or 20th century or present day, all clothing has a social history aspect to it."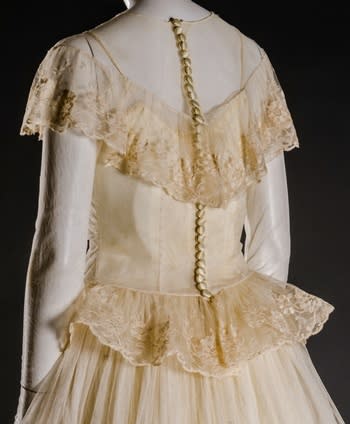 Back of 1940s gown
Steven Porterfield, owner of Midland, Texas-based vintage textile and antique store The Cat's Meow, has generously lent several of the dresses that will be seen at the exhibit from the Texas Fashion Collection. Porterfield has been drawn to vintage items since he was 11 years old. Porterfield grew up helping the women at his church sift through boxes after boxes of clothing donations. Both his mother and grandmother were seamstresses. Today he has more than 3,000 garments and an abundance of well-preserved vintage wedding dresses, antique art and jewelry.
The exhibit will not only do justice by sharing how wedding dresses have evolved and changed throughout time, it will give the public a rare opportunity to walk in the steps of a bride from more than a century ago.
"Sometimes we go to people's houses because they say they have vintage clothes from their great grandmother, and there will be something in a chest that has bugs in it or has some wear and tear to it," says Dawn Figueroa, Assistant Curator at the Texas Fashion Collection. "To find these dresses is difficult."
On display will be authentic wedding dresses ranging from the Romantic, Victorian, Prohibition, Civil War eras, plus the Baby Boomer generation. Each dress will hold its very own exclusive aura and antiquity.
"These dresses have a story behind each one, with sparks of inspiration and imagination that breaks with tradition," Walker says.