From sheep-riding to slam dunks, Denton offers loads of fun for cowboys and cowgirls of any age.
By Lauren Frock Denton Live: July-Dec 2104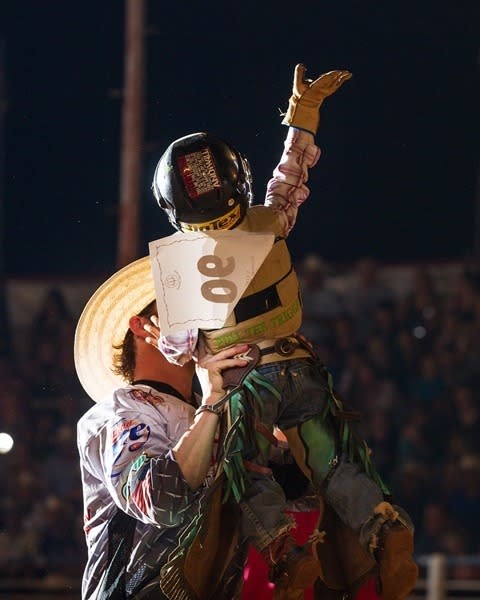 The crowd cheers as 10-year-old Riley Webb, the youngest roper in the evening's lineup, rides out on his one-eyed horse, Captain Jack. He dismounts and stands next to his steed, his eyes only reaching the stirrups. He lays out three lassos, and with a nod, the music starts playing through the arena's speakers. Riley picks up the first coiled rope and the audience starts cheering as his lasso defies gravity. As he performs, the countless hours spent practicing to ensure each fluid movement would play out perfectly seem like mere seconds leading up to the end. When the final hit arrives, Riley throws his hat into the wind and ends with a bow.
The crowd roars as he rides out of the arena with a grin of accomplishment stretched across his face.
The young cowboy's favorite part of the rodeo is trick roping, but one of many categories in which he competes at the North Texas Fair and Rodeo that takes place each year at Denton's Fairgrounds.
Did someone say North Texas Fair & Rodeo?  Dust off your Stetson and come out to the 86th annual North Texas Fair and Rodeo Aug. 15-23, recognized as the best event in Texas by the Texas Association of Fairs and Events. The fair's volunteer-operated, nonprofit community organization captures the essence of Western heritage and values displayed in a way Dentonites and visitors alike enjoy year after year. The many youth-oriented opportunities teach the importance of preserving the agricultural industry and all revenue generated is reinvested into programs, scholarships and facilities that help Denton continue to thrive. This fair helps many children, like Riley, find success, Riley has his sights set on becoming the roping world champion at the annual National Finals Rodeo in Las Vegas.
"When I rope I never quit," Riley says. "My dad put on roping events every weekend since I was a baby and I'd be in my crib roping."
Riley, who first attended the North Texas Fair and Rodeo as a 2-day-old infant, developed his dream at a young age. He started off attending the rodeo as a mutton buster, also known as a sheep rider, competing against some 100 other children ages 4-7. It's as cute as you're imagining.
"For many children it's a big accomplishment to ride the sheep, even if they fall off after a few seconds," says Glenn Carlton, executive director of the North Texas Fair and Rodeo. "It's a natural progression. You start them on a sheep and next they're riding a calf, then they might ride a steer, and someday when they're grown up they may be a bull rider."
Riley placed second his first year at age 4 and came back as a volunteer when he was too old to compete. He has also participated in barrel racing and roping and has plans to continue for years to come.
Fun for the Whole Family In addition to mutton bustin', children can participate in the junior rodeo, pageant, pony rides, petting zoo, livestock show, bubble runner, train rides and other family-friendly activities. Although the North Texas Fair and Rodeo has plenty of activities for children, this is a full-fledged fair complete with thrilling rides, good food and live music, drawing in crowds of all ages. Several new events will take place at this year's event, including TNT Slam Dunk, a trampoline and basketball-themed show, and Marvelous Mutts, a stunt show featuring rescued dogs.
"I love having the privilege to do this," said Riley. "I like coming out each year and getting to rope with my friends. It's fun, and that's what it's all about."
2014 Entertainment Line-Up:
August 15            Randy Rogers/Jason Eady
August 16            Kevin Fowler/Will Hoge
August 17            La Banda Yurirense/Cadetes De Linares
August 18            Jamie Richards
August 19            Uncle Lucius
August 20            Cody Johnson/Spivey Crossing
August 21            Josh Abbott/Zane Williams
August 22            Aaron Watson/J.B. and the Moonshine Band
August 23            Tracy Lawerence