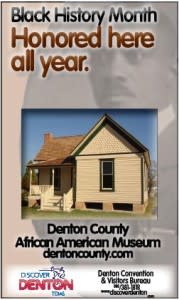 Denton doesn't have to wait for February to celebrate Black History Month. With the addition of the Denton County African American Museum (DCAAM) to the Historical Park in 2007, Denton has had the privilege of enjoying its heritage all year round.
Black History Month Special DCAAM Tours
Saturday, February 5                     11 - 11:45 am
Thursday, February 10 2 - 2:45 pm
Thursday, February 17 2 - 2:45 pm
Saturday, February 26 11 - 11:45 am
Call 940-349-2865 to make reservations for these dates
Cost: FREE
The restored Quakertown House is also making its debut this year in the newly released brochure African Americans in Texas: A Lasting Legacy. The Texas Historical Commission, with the partnership of the Texas Department of Transportation, Office of the Governor--Economic Development and Tourism, Texas Parks and Wildlife, and Texas Commission on the Arts released this travel guide this past December, 2010. The booklet is a compilation of significant historical sites. Along with its companion website,www.AfricanAmericansInTexas.com, "these resources attempt to capture the stories of African Americans in Texas and enrich lives through an exploration into this significant aspect of Texas history."
DCAAM offers free tours Tuesdays through Saturdays from 10 am to noon and from 1 to 3 pm. In honor of Black History Month, DCAAM will also offer programs during February that place special focus on the families and places featured in exhibits. The Public is invited and urged to make reservations to attend these four special tours that include technological enhancement through interactive computer displays.
Visit www.africanamericansintexas.com to request a free booklet or download a PDF version of African Americans in Texas: A Lasting Legacy.