During the past couple of weeks, my work has had me on the road.  One of my favorite things about being in other cities is comparing their stuff to ours here in Denton.  I look at their downtowns, seek out their sense of place, talk to local people, and get a feel for their culture.  Is this place what I expected based on my perception of their marketing and their reputation?  One of my greatest passions, and therefore a primary component I look for, is customer service.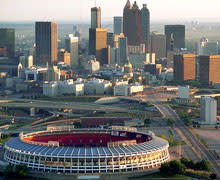 Atlanta, GA was my first stop.  "The deep south."  What comes to mind when hearing that phrase?  Hospitality.  Southern charm.  A soft, musical sound in the accent. These things were my expectation.  And these things are what I experienced.  The place oozes hospitality and friendliness.  Servers in sit down restaurants and fast food outlets, convention center attendants, bus drivers…they all had it down as though they had studied service excellence since grade school.  It was amazing.  Here is a stellar example.
Construction was a major mess in the downtown area around the convention center where my visit was centered.  On one bus ride, the driver was quite frustrated about the detours required to get us from point A to point B.  Rather than express his frustration, he treated us as an audience and had everyone laughing at his tour of the city that included some areas the average tourist would never see.  The 15-minute ride that became a 30-minute ride had hurried passengers relaxed, happy, and tipping big by the time we finally arrived at the convention center.  Who made him do that?  No one.  He took initiative on his own, this man with no college education (he told us that), and turned something bad into a good experience for his passengers.  Brilliant!
That is just one example.  But I could go on: the terribly fast-moving business lady on the sidewalk who made eye contact as she said hello; the street vendor who stopped his business to give me directions; the cashier who guarded my lost iPhone until I returned for it rather than selling it or keeping it for herself.  Atlanta really has the people connection down pat.

From Atlanta, I flew to Albuquerque, NM.  Here I expected an awareness of tourism at the least.  I know it is not the deep south.  But the culture in NM is "cool."  While the coolness is a welcome diversion from our typical Texas weather, the coolness from the people was a bit of a shock, especially after Atlanta's welcoming warmth.  Case in point:
Our team had dinner together one night in Old Town Albuquerque at a famous local spot.  We waited more than an hour for our table after being told it would be 20 minutes max.  No one apologized.  No one offered an explanation, a beverage – note even water – while we waited.  Nothing.  When finally we were called, a sour-faced hostess showed us to our table and a server with an equally sour face took over.  The food at this place is excellent.  I know because I've been there before.  But the poor service overshadowed the good food and everyone expressed dismay that we had wasted our evening at this Albuquerque icon.  Needless to say, no one returned to Old Town Albuquerque during our remaining days there.
Because our team members are all in the tourism business, we talked about the poor service.  A couple of our members had lived in NM in a past life and shrugged it off as "that's just how people are here."  And I thought, "how sad."
So, is a destination's ability for excellent service and experience doomed because of culture?  I do not believe it has to be.  People just need to care.  Atlanta obviously cares what people think about their city, whereas Albuquerque's attitude seemed to say, "stay or leave; either way is fine with us."
What do we say in Denton?  Our Denton CVB's Denton Originals Customer Service & Destination Training is designed to address the typical societal nonchalance, to rise above average and create an experience that drives personal accounts like mine about Atlanta.
So, what will it be, Denton?  Will people say, "It's just another college town so average is all we can get?"  Or will they leave with stories that inspire others to want to experience Denton for themselves?
We're doing our part.  Are you?