It's really no surprise Denton is a geek-filled destination. It's a college town with an impressive music and arts scene. Books, comic books, pop culture, and video games aplenty, Denton has a plethora of nerdy and geeky things to do. 
Even if these specific things don't interest you, whatever it is that makes you geek out, there is likely something in Denton that will impress you. There are a variety of things around the city that would appeal to history and academia lovers, food geeks, and music nerds.
Not only that, we're a community that likes to meet about nerdy things. It's not uncommon to find drum circles, book clubs, LARP, and more out on the courthouse lawn.
Plan a trip and experience the nerdery for yourself!
 
Shops & Markets in Denton
More Fun Comics, Games, & Toys
Having three locations in the downtown Denton area, More Fun really has the most undeniable presence in Denton. More Fun Game Center is your destination for tabletop gaming. More Fun Toys is a one-stop-shop for puzzles, plushies, and children's toys. And More Fun Comics & Games is a comic book shop with board games, RPG games, and pop culture collectibles like Funko Pops! and PVC figures. Check out this Denton Shopping Tour video to see what it's all about!
More Fun Comics & Games
103 W Hickory Street, Denton, Texas 76201
More Fun Toys
115 W Hickory Street, Denton, Texas 76201
More Fun Game Center
316 E Oak Street, Suite 107, Denton, Texas 76201
 
Recycled Books
200 N Locust Street, Denton, Texas 76201
Since 1983, Recycled Books has been serving up used books, music, movies, and more. Three floors, and a half a million books, this place is sure to please the nerdiest of folks. There is also a section dedicated to retro video games, consoles, and toys. The shop is a cornerstone of Denton's cultural landscape and after one visit you'll see why. Nooks and crannies, hidden rooms of books, and ephemera adorning the walls, ceilings, and shelves, there is something new to experience with every visit.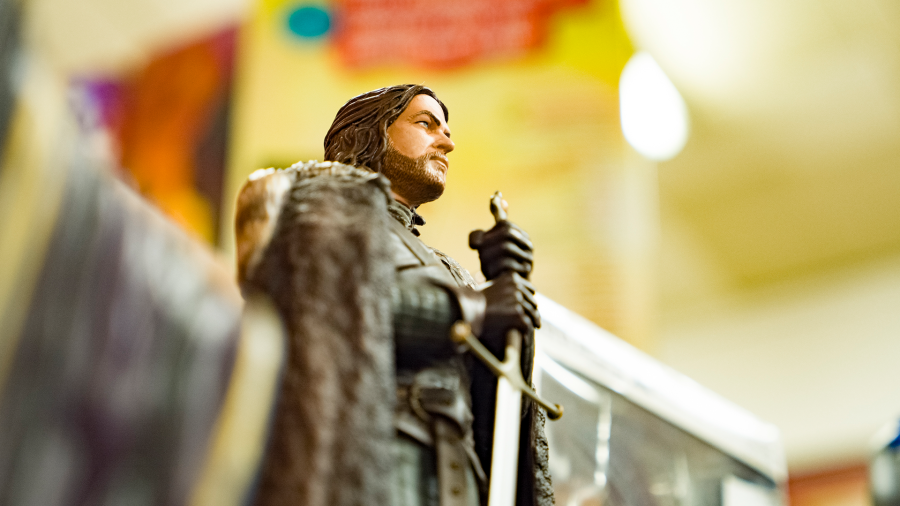 Toys and action figures at Recycled Books. Photo by Conrad Allen.
Denton Community Market
Happening every Saturday, the Denton Community Market is a producer-only art and farmer's market in downtown Denton. Everything that is offered at the market is created within a 100-mile radius of the city. There are artists like Bryan Kelly Draws and Otter Illustration whose works play into some fringe and nerd culture that only the geekiest can appreciate.
Saturday 9 AM - 1 PM
Denton County Historical Park
317 W Mulberry Street, Denton, Texas 76202
 
Madness Comics
1005 W University Drive, Denton, Texas 76201
Located on West University, Madness Comics is a local family-owned comic and game shop. They carry current and back-issue comics, card games, board games, Magic the Gathering, and Dungeons & Dragons manuals and supplies.
 
Atomic Candy
105 W Hickory Street, Denton, Texas 76201
This candy shop on the square is packed full of nostalgia and fun childhood memories. Atomic Candy's retro candy selection is bar none, and with mix and match candy by the pound, humorous gifts, and wacky toys, this is a must-see store. 
 
Maker's Markets
There's a big DIY scene in Denton that lends itself to a lot of pop-up markets at local venues. Zines, handmade crafts, and artisan goods being sold by the maker while local bands play is a large part of the culture. These markets are a great place to connect with fellow nerdy folks, share ideas, pool resources, and provide support to the creatives who fuel Denton's uniqueness.
Be sure to check out the calendar of events for any upcoming markets or DIY workshops in the area.

Geeky and Nerdy Things to Do
Game Changers
122 W Mulberry Street, Suite 100, Denton, Texas 76201
With 20 TVs, classic arcade games, a dart pit, pool tables, and air hockey, Game Changers Sports and Arcade Grill is a local establishment catering to the retro gamer, sports fan, and all-around-nerd. All ages till 9 PM and non-smoking, this restaurant and bar are fun for the whole family.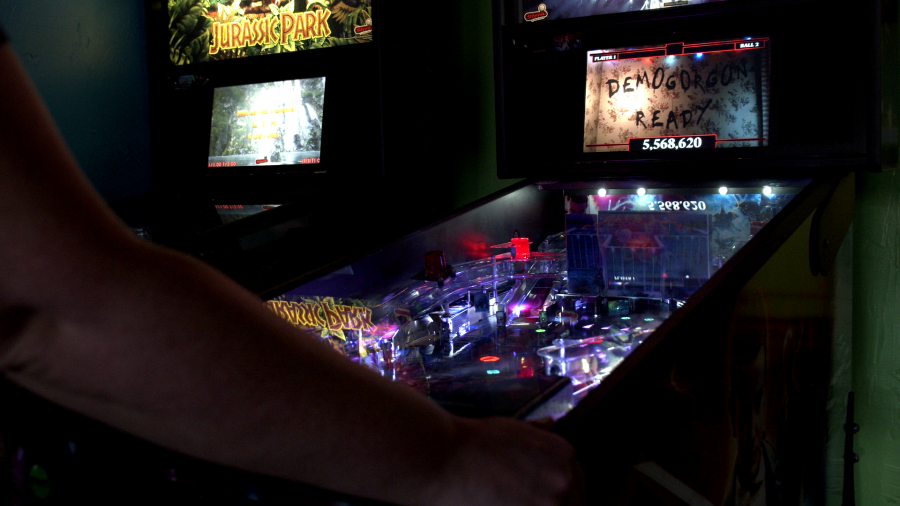 A person plays the Stranger Things pinball machine at Game Changers. Photo by Conrad Allen.

Free Play
01 W Hickory Street, Denton, Texas 76201
Free Play Denton is the largest Free Play location with over 100 arcade games, more than 20 pinball machines, two bars, and a kitchen. Its new location sits conveniently on the square next door to More Fun Comics and Games. 

Alamo Drafthouse
3220 Town Center Trail, Denton, Texas 76201
Geeks can agree that Alamo Drafthouse has movie viewing experiences unlike most. Famous for enforcing proper theater etiquette, leave your cell phones off, recline, and enjoy new blockbusters as well as old favorites.
Comic Cons and Fan Conventions
Denton Comic Art Exposition
The Greater Denton Arts Council presents the first annual Denton Comic Art Exposition. A family-friendly event with a cosplay contest, workshops, discussion panels, artists, vendors, food trucks, and more! While the event is free for the public, they ask that you sign up in advance for admission. Click here to register through Eventbrite.
Saturday, August 7th, 1 PM - 5 PM
Patterson-Appleton Arts Center
400 E Hickory Street, Denton, Texas 76201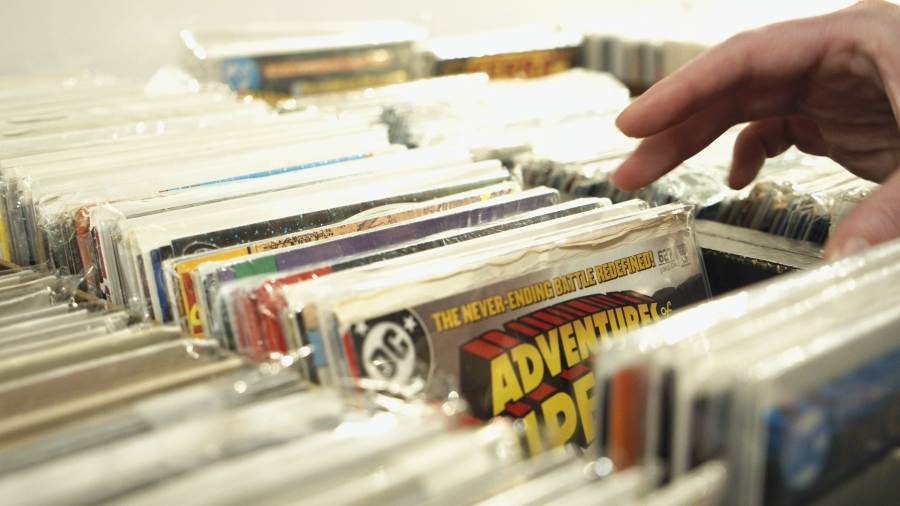 A person flips through comic books. Photo by Conrad Allen.
ReaperCon
Once a year, Reaper Miniatures hosts talented sculptors and painters who work on their figures and invite fans to come and hang out and learn. Offering classes from professionals, opportunities to paint miniatures, play games, and visit with fellow fans, ReaperCon is a local event not to be missed by tabletop fans. To learn more about the event and to register, click here.
September 2-5, 2021
Denton Convention Center
3100 Town Center Trail, Denton, Texas 76201
Dining and Drinks
Burger Time Machine
301 W University Drive, Denton, Texas 76201
Burger Time Machine has a retro-style restaurant with fun decor and plenty of nods to classic movies. Menu items include burgers named Jurassic, Star Trek, Star Wars, Dracula, among others. Arcade games line the walls and a pool table is there for entertainment. It's worth checking out for nostalgia alone!
 
Armadillo Ale Works
221 S Bell Avenue, Denton, Texas 76201
Local brewery, Armadillo Ale Works, is a good place to spend time with fellow geeks. Not only is it serving locally-themed craft beers, but Armadillo Coffee Works located within the bar offers non-alcoholic options like lattes, London Fogs, and pour-overs. Large picnic tables, board games, arcade games, and weekly trivia nights make this destination fun for groups.
 
Golden Boy Coffee
1803 N Elm Street, Denton, Texas 76201
Golden Boy Coffee is another coffee and bar in Denton that has a cool, nerdy, welcoming vibe. Black and gold decor, a retro mascot, and menu items referencing pop culture icons make this a perfect stop for caffeine or drinks before exploring what Denton has to offer!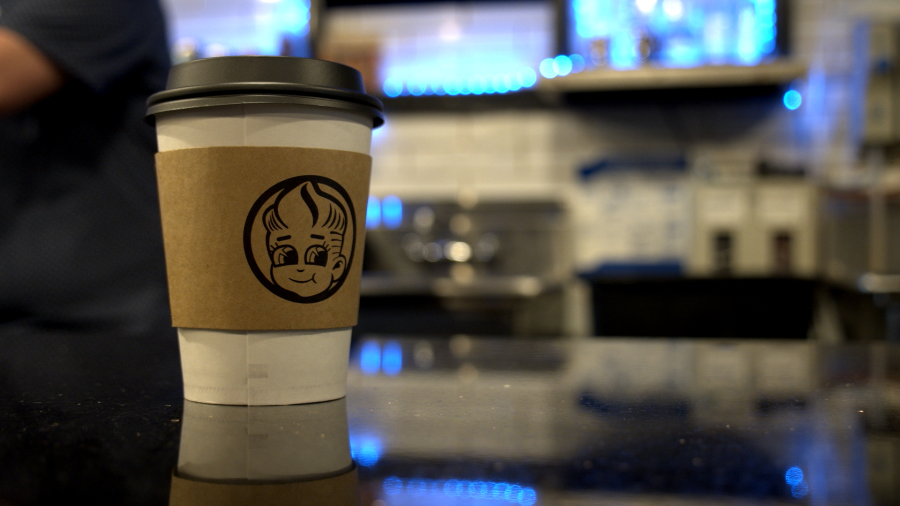 A coffee sits on the counter at Golden Boy. Photo by Conrad Allen.
There you have it! A geek's guide to Denton, Texas. Book a stay and make a weekend of these area attractions and let us know what your perfect "Geek Getaway" looks like in the comments below!