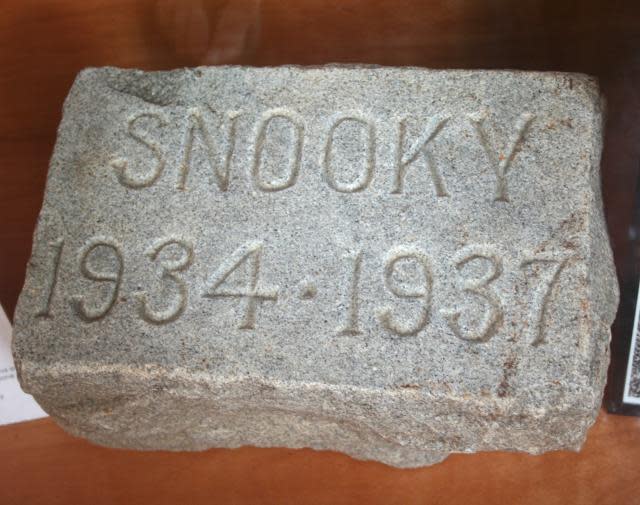 "The gloom was thicker than frozen molasses around the Central Fire Station."  That's what the Denton Record Chronicle reported about the day in 1937, when Snooky died.  Her death was treated as if she were one of Denton's fallen heroes.
Snooky was a big white bulldog who was the mascot of the firemen at the station.  From the news article, it seems she was one of those friendly animals that is everybody's pet.  She was a favorite on the courthouse square, and made her rounds each day visiting the restaurants of the day.  Employees of Ray's Cafe and the American Cafe (which now are distant memories) knew when she made her rounds and always had scraps and treats to feed her.
According to the Fire Marshall of the time, Eugene Cook, Snooky hopped on the truck to accompany the firemen to everyfire.  Of course, the firemen adored her.  That's why they grieved so deeply when she died.
She had a habit of following the ice wagon (deliveries by the Mahan Ice Company in the 1930s were still made by a horse-drawn wagon).  One morning, as Snooky pattered along behind the wagon, she got struck by a car.  The poor injured dog managed to drag herself back to the station and a veterinarian was summoned ... but it was too late for Snooky.
Snooky was buried with honor at the corner of the Central Fire Station (located back then on McKinney Street) in a dog-sized coffin lined with a velvet-like material.  However she wasn't laid to rest until after a parade.  It's true!  Her coffin was put on the running boards of the fire truck and Snooky was driven around the block that sunny summer day for one last tour of the courthouse square.  The Fire Department's Chaplin preached a sermon and her grave was decorated with the tombstone you see above (donated in her honor).
Here in Denton, throughout history we have always loved our dogs.  It should come as no surprise that we celebrate Man's Best Friend with a festival.  In fact, the Dog Days of Denton are almost upon us (follow that link to get the scoop)!  For years the celebration was known as the Dog Days of Summer, but even the name change to the Dog Days of Denton Celebration didn't alter the fact that there will be great family-friendly (and pet-friendly) fun in town on May 31, 2013 and June 1, 2013.  This festival is in its 20th year, so this should be a good celebration --- rain or shine.
Don't you know that Snooky would have loved a festival like that?
[While you are in town, take an opportunity to visit  the Firefighter's Museum, located at 332 E. Hickory.  Snooky's headstone is on display there (probably removed so vandals wouldn't steal it after the move to the new station).  The museum is a delightful hidden gem of our city which preserves unique firefighter memorabilia and interesting information about the history of Denton fires.  When I discovered the Firefighter's Museum for the first time this week, I wrote about it on my personal blog.  I should have already known about it, because Discover Denton has a listing of all of our museums.  I don't think you could take your pet inside, but I bet you could find a fire hydrant!]