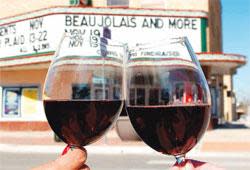 Wine enthusiasts around the world look to the third Thursday of November every year with much anticipation, eager to taste the yearly release of Beaujolais Nouveau, a young and fruity French wine that is best consumed shortly after its release.  In Denton, this day is celebrated at the Denton Civic Center with the Beaujolais & More wine and food tasting, an event benefitting the Campus Theatre.  So make sure to mark your calendar for this year's fun wine-filled event, Thursday, November 15 from 5:30-7:00 p.m.
For only $25, attendees support local Denton art while sipping on fantastic vino and grazing on delicious dishes prepared especially for pairing with the Beaujolais Nouveau.  Many great local restaurants and caterers will bring their best bites to delight the taste buds of everyone in attendance.  French music sets the ambiance and prepares everyone up for a relaxed but exciting evening.
Beaujolais & More began 12 years ago with the late Denton residents Gary Kirchoff and his wife Carol inviting a small gathering of friends over to share the Beaujolais Nouveau flown in from France.  The tradition began, and the guest list grew.  This wine fundraiser eventually outgrew the Kirchoff home, so they moved the event to the Denton Civic Center, where it has since been held.
Discover the event for yourself this year and share the fun with your friends.  You will get to sample from a bevy of unique recipes to accompany your wine.  More than 20 restaurants will provide food for the event.  You'll get to try creative food and wine pairings that will capture your imagination.  Previous years bites have included food from all different reaches of the world- French, Mexican, Thai, and Italian cuisine.  So come prepared to try something new and tasty!